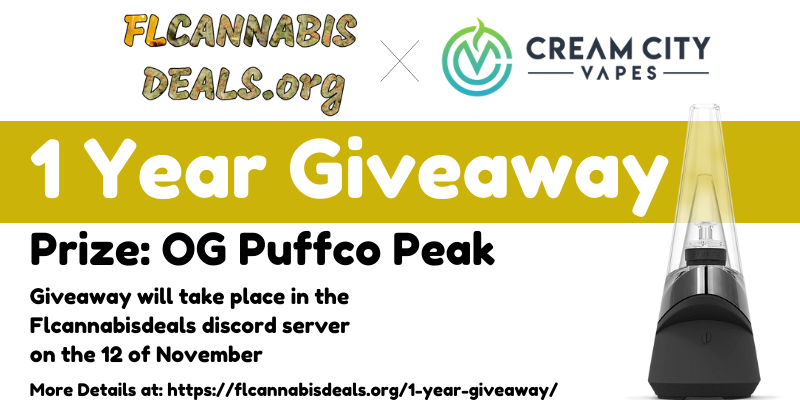 Hello all, the one-year anniversary for FLcannabisdeals.org is November 12 and we are so grateful for all the support and love we have gotten from the FL MMJ community. As a token of our appreciation, we want to do a giveaway to say thanks for sticking along for the ride. Thanks to our friends over at Cream City Vapes an amazing online headshop that supports and fosters a great community. For every product sold on their online smoke shop, they plant one tree helping fight deforestation and climate change. An honest company with a great vision. Check them out here and join their discord to chat with other awesome people. Hoping for another great year with everyone.
Stay Medicated!
Giveaway Prize: An OG Puffco Peak
To enter for a chance to win:
-Join the FLcannabisdeals discord linked here and join the CCV discord linked here
-On the Flcannabisdeals discord look for the giveaway channel towards the top left side. There you should see the giveaway and instructions on how to enter. (hit the red party popper emoji)
-A winner will be decided by the discord bot and will be contacted on where to ship the prize on November 12/13.
-Please be patient with shipping and tracking. We will try our best to get it shipped ASAP but things can take weeks.
Our Story
I started the site in November of 2020 shortly after an Instagram page got deleted. Those who have been with flcannabisdeals from the start might remember that it was first an Instagram page under the same handle. There is still an account with a similar name but we do not post as Instagram guidelines can be strict with the content. The Instagram page got deleted just as we were approaching 1,000 followers in October.
There were two passes to go down from that point to give up or find another platform we can share deals and discounts on. Facebook, Reddit, and youtube all seemed like decent platforms but with massive cooperate hierarchy and guidelines the only clear answer was to create our own website so no one can tell us what we can and can not post. From there I started the site in November and have been working on it every day. Write content, tweak design update charts, and more. There have been many sleepless nights and days where things would not go our way like website issues and hosting issues. With enough positivity and cannabis, I was able to push through the challenges.
From the start, this has always been a passion project I do not have a major website development background and saw this as a project about something I love and something I can learn from. I never expected it to grow so fast and gain such a great following. From November 2020 we have gotten over a quarter of a million page views! Which is mindblowing. I really appreciate all the love and support I get from the community. I know the site is not perfect and sometimes there might be bugs but it means the world to me for those who have stuck around through thick and thin. From the bottom of my heart, thank you. I hope to take the site to bigger and bigger proportions and help the community that has helped me so much.
One Love-FLCD
*Giveaway Subject To Change*