Dabbing is a super popular way to consume medical cannabis with it being powerful and fast activating. Dabbing is the act of smoking concentrates like shatter, crumble, wax, and more. Usually to smoke concentrates you will need some kind of glass oil rig and a torch since to get the full effects of concentrates they need to be smoked at the right temperature. Nowadays, electronic devices can create the temperature needed and be easier to handle and smoke from. The most famous is the Puffco Peak, being almost everywhere in stores and on Instagram, the Puffco Peak is the go-to electronic rig for many. Here are some Puffco Peak Alternatives:
| | | | |
| --- | --- | --- | --- |
| Name | Price | Link | Battery |
| Puffco Peak Pro | $399 | Here | 30 Dabs Per Charge |
| Puffco Peak OG | $150 | Here | 30 Dabs Per Charge |
| Puffco Proxy | $300 | Here | 15 Dabs Per Charge |
| Focus V Carta 2 | $360 | Here | 25 Dabs Per Charge |
| Focus V Carta | $250 | Here | 30 Dabs Per Charge |
| DabTech Elite Pro Vaporizer | $200 | Here | 40 Dabs Per Charge |
| DR. Dabber Switch | $375 | Here | 100 Dabs Per Charge |
| Pulsar RoK | $218 | Here | 25 Dabs Per Charge |
| XVape Vista Mini 2 | $160 | Here | 35 Dabs Per Charge |
| Crossing CORE 2.0 | $199 | Here | 30 Dabs Per Charge |
| VLAB Halo | $150 | Here | 35 Dabs Per Charge |
| | | |
| --- | --- | --- |
| Coupon Codes: | % OFF: | |
| Smoke Cartel Coupon Code: "FLCANNABISDEALS" | 10% OFF | |
| Headshop Coupon Code: "Save10" | 10% OFF | |
| DankStop Coupon Code: "BLAZEIT" or "FLCANNABIS" | 20% OFF or 15% OFF | |
Puffco Peak Pro Itself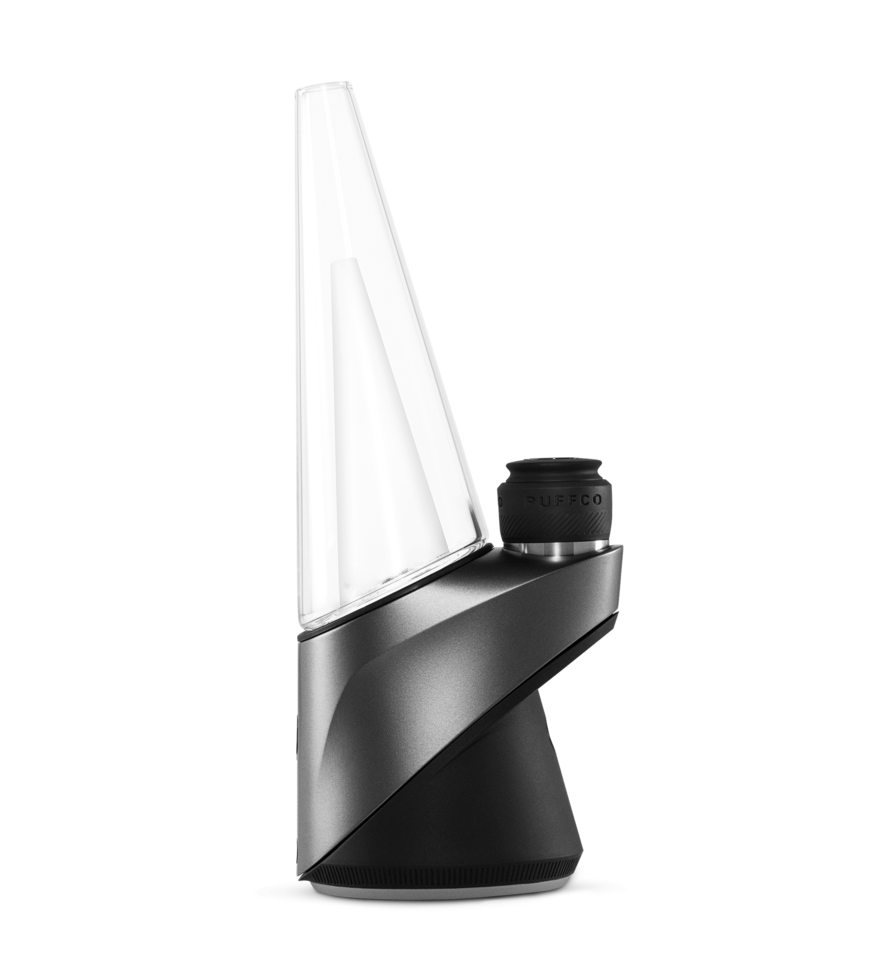 The Puffco Peak Pro as mentioned earlier is a community favorite by many and for good reason. Being one of many electronic rigs that have entered the market and have withstood the test of time. Usually, it doesn't take long for products to come out and fail but the Puffco is still here. Has all the features you come to expect from electronic rigs like glass mouthpieces, different temperature modes, fast charging, lasting battery, fast heat up, and accessors in the box. The main reason people do not buy the Puffco Peak Pro is its price. Retailing at $399 the Puffco Peak is a quality product with a price tag linked here. Use code "FLCANNABISDEALS" at checkout for an extra 10% off. Below is some Puffco Peak alternative that claims to do the same thing for less.
In the box, you will get: Metal loading tool, Dual tools (fancy Q-tips), an AC adapter, a USB-C cable, a Carb cap tether, an Oculus carb cap, Chamber, Glass, Peak Pro Base, Carrying Cas
Puffco Peak OG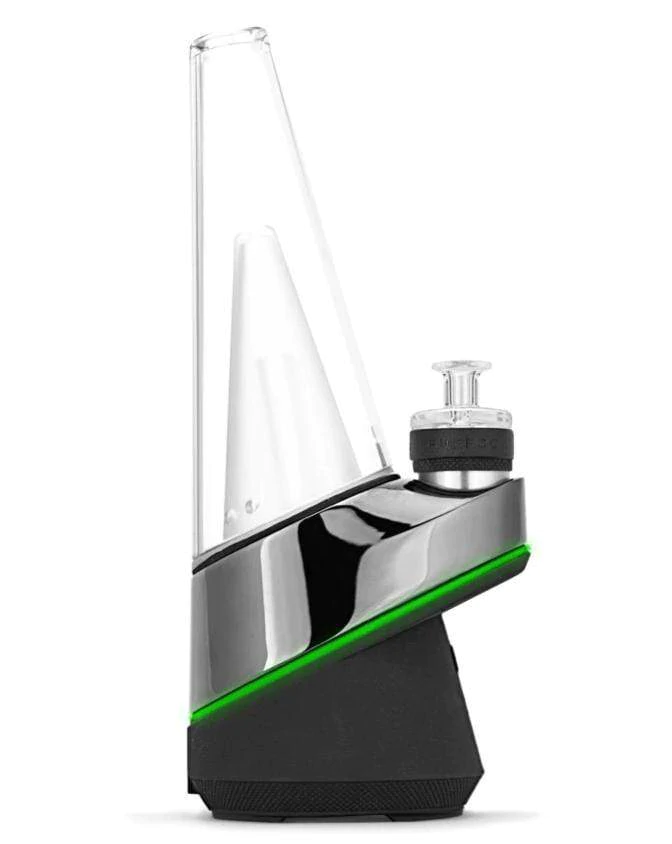 The original Puffco Peak is the predecessor to the Puffco Peak Pro. It came out first and is still a very popular option since it is much cheaper than the Puffco Peak Pro. The original Puffco Peak goes for $150 linked here. Use code "Save10" at checkout for an extra 10% off. It is the first of the two it has some issues with the temperatures being too high or low and more which is to be expected from the first version. One perk of the original Puffco Peak is the ability to completely change out and switch the insets and heating elements to any after-market ones. The Puffco Peak Pro is all built into the atomizer. Also, the original Puffco Peak is not officially supported by the Puffco App which loses you on customizability and usage statistics.
In the box: PuffCo Peak, Carrying Case, Cleaning Swabs, Loading Tool, Micro USB Charger, Extra Ceramic Bowl
Puffco Proxy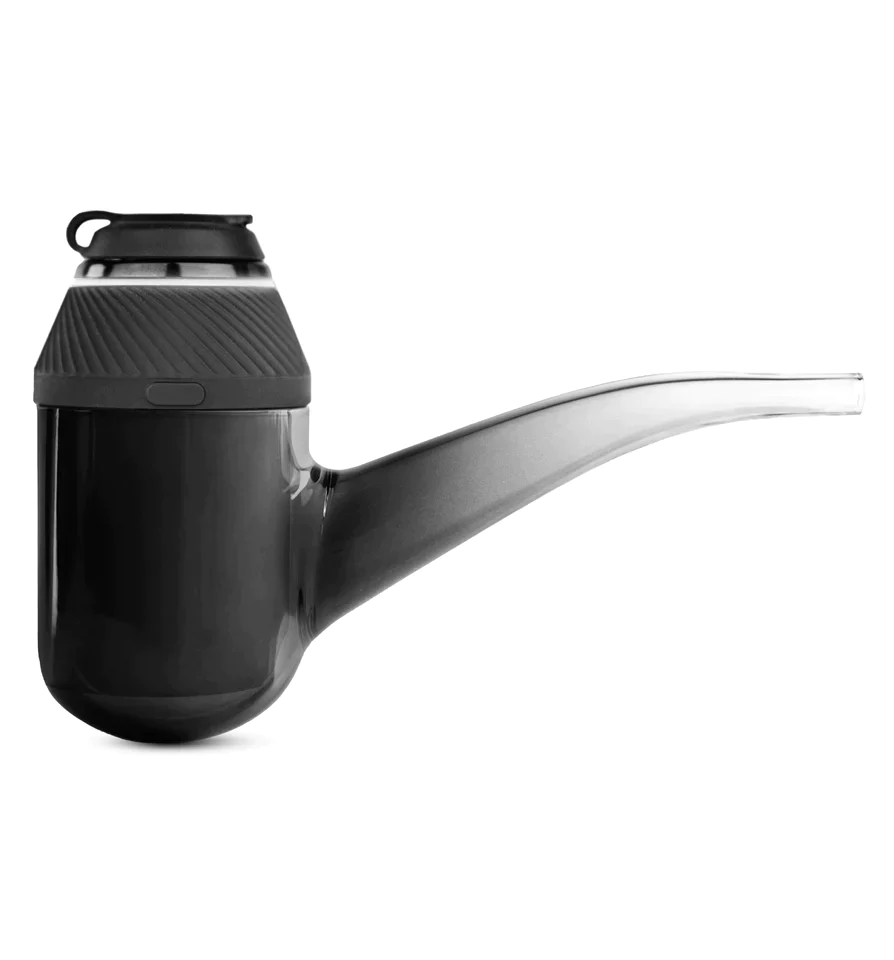 The newest product from Puffco is the Puffco Proxy, a compact vaporizer designed for cannabis concentrates with an old-school look. With its 3D Chamber Technology and single-button interface, it offers an effortless and flavorful experience. The Proxy Kit includes versatile accessories for customizable sessions with four default heat settings included. Crafted with a borosilicate glass body and ceramic bowl, it ensures purity and easy cleaning. The included carry case provides convenient portability. Its modular design allows for personalized setups and experimentation with other glass pieces. Experience the future of concentrate vaporization with the Puffco Proxy, priced at $300 here. Unlock the true potential of your concentrates with this exceptional vaporizer.
In the box: 1x Carrying Case 1x Proxy Base 1x Borosilicate Glass Pipe 1x 3D Chamber 1x Cable 1x Loading Tool 1x Dual Tool

Best Puffco Peak Alternatives
1) Focus V Carta 2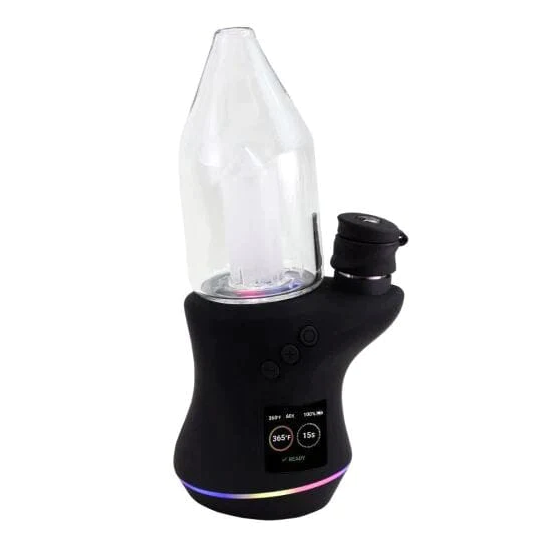 At the forefront of technological advancement, Focus V Carta 2 takes the lead with its state-of-the-art smart rig, a visionary creation poised to carry us into the future. Equipped with a larger atomizer featuring a 360° heating element and optimized airflow, the CARTA 2 delivers unparalleled performance. The best Puffco alternative currently on the market goes toe to toe with a fully upgraded Puffco.
The Carta 2's OLED display and buttons give all the info and power to change them right on the device. Essential information about your vape and session in a glance. Track battery life, current temperature, and session timer, and effortlessly switch between herb or concentrate mode. Moreover, with the complementary Focus Web App that lets you change device LED colors, screen saver, vibration strength, and more.
Powered by a robust 2000mAh internal battery, giving temperature ranges from 360F up to 635F giving approximately 20 to 25 sessions on a single charge. The Carta 2 retails for $360 online, linked here.
In the box you will get: 1x Focus V Carta 2 Vaporizer 1x Intelli-Core™ Atomizer 1x Atomizer Cap & Tether 1x Carta 2 Carrying Case 1x Travel Silicone Stopper 1x Dab Tool 1x USB-C Cable 1x Manual
2) Focus V Carta Smart Dab Rig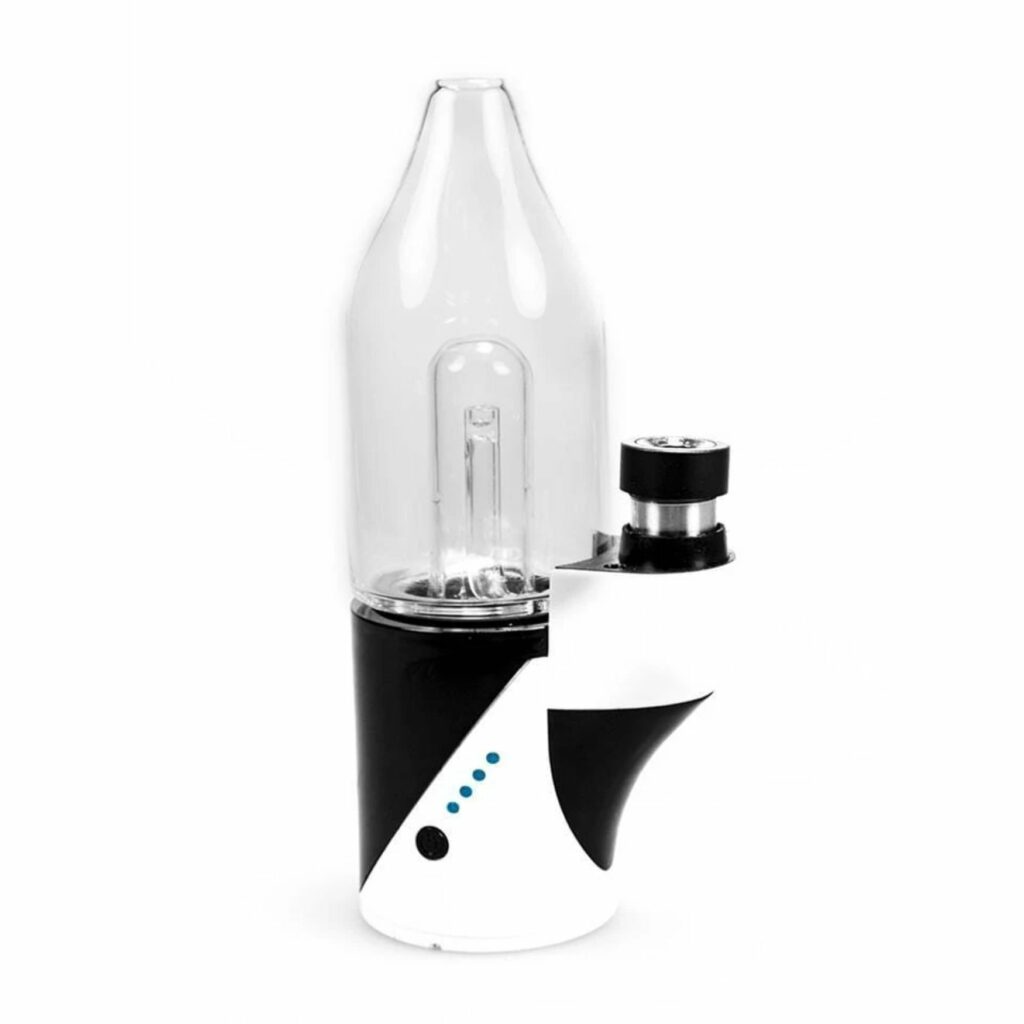 The Focus V Carta is one of many competing to be the next Puffco Peak. So far people have really been enjoying their Focus V Carta. Has all the features of the Puffco Peak and is more like its own app that lets, you monitor the temperature via Bluetooth. One cool thing about the FocusV Carta is the battery is replaceable so even if the battery stops taking a charge it can be replaced. A Focus V Carta goes for $250 linked here. While that is still a lot of money for any kind of rig it is more than $100 cheaper than a Puffco Peak Pro at retail making it a great Puffco Peak alternative.
In the box, you will get: 1 x Carta Vape Rig 1 x Borosilicate Carb Cap 1 x Titanium/Quartz Buckets 1 x Wax Chamber 1 x USB-C Charging Cable 2 x 18350 Batteries 1 x Silicone Dab Container 1 x Dab Tool 1 x Pack of Alcohol Wipes 1 x Carrying Case 1 x Carb Cap Tether
3) DR. Dabber Switch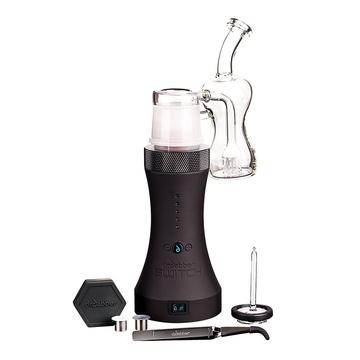 Dr. Dabber is a well-established brand with a long-standing reputation for producing high-quality oil vape products. Their latest addition to the E-rig category is the Dr. Dabber Switch, which boasts a range of impressive features. Some of these include passthrough charging, twenty-five heat settings, auto cool down, stealth mode, and compatibility with both oil and flower. Additionally, the device has a self-cleaning function, among other notable features.
On the site, they claim you can get over a hundred dabs on a single charge with is crazy if true. The reviews for Dr. Dabber Switch seem majority positive and those who said they got faulty parts said that Dr. Dabber's customer support was very helpful and fixed their problems. Make sure to claim the 2-year warranty. The cost of being from a big brand like Dr. Dabber and having all the cool features the Switch has is up there. The default black color is listed for $375 retail linked here. Making it almost the same price as a Puffco Peak Pro with some more features makes it a good alternative.
In the box, you will get: 1x DR. Dabber Switch Device 1x Glass Bubbler Top 2x Ceramic Cup 1x Vent Cap 1x Tweezers 1x Silicone Seal 1x Dab Cap/ Picking Tool 1x Dr. Dabber Silicone Jar 1x Charger 1x Manual
4) Crossing CORE 2.0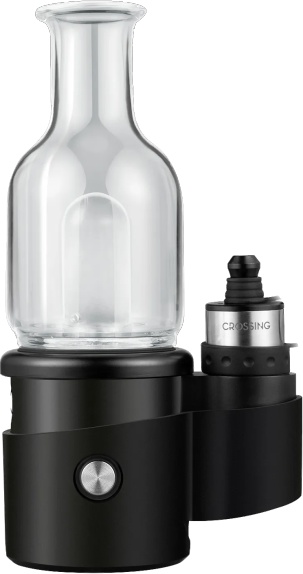 Introducing the Crossing Core 2.0 E-Rig – a portable, easy-to-use device revolutionizing the dabbing experience. With a 3150mAh battery, it provides up to 80 seconds of session time and offers four heat settings (ranging from 350°F to 500°F) for precise customization. Whether you prefer low-temperature hits for flavorful terpenes or high-temperature vapor production, the Core 2.0 E-Rig caters to your preferences.
The fully heated large-capacity cup ensures even heating, allowing you to enjoy consistent flavor profiles and potent hits. The Crossing Core 2.0 E-Rig: Upgrade your dabbing routine and discover the ultimate in convenience, customization, and flavor. Featuring a deep chamber and embedded element designed to enhance the full range of flavors from your dabs for $199 linked here.
In the box, you will get: 1x Core 2.0 e-rig base 1x Core bubbler 1x Aluminum spinner carb cap 1x Carb cap tether 1x Silicone base cover/sleeve 1x Atomizer with V5 heater installed 1x Spare V5 heater 4x Spare atomizer screws 1x Screwdriver 2x Spare carb cap tube o-rings 1x wall plug 1x USB-C charging cable Cotton swabs Alcohol wipes 1x Carry case
5) Pulsar RoK Electric Dab Rig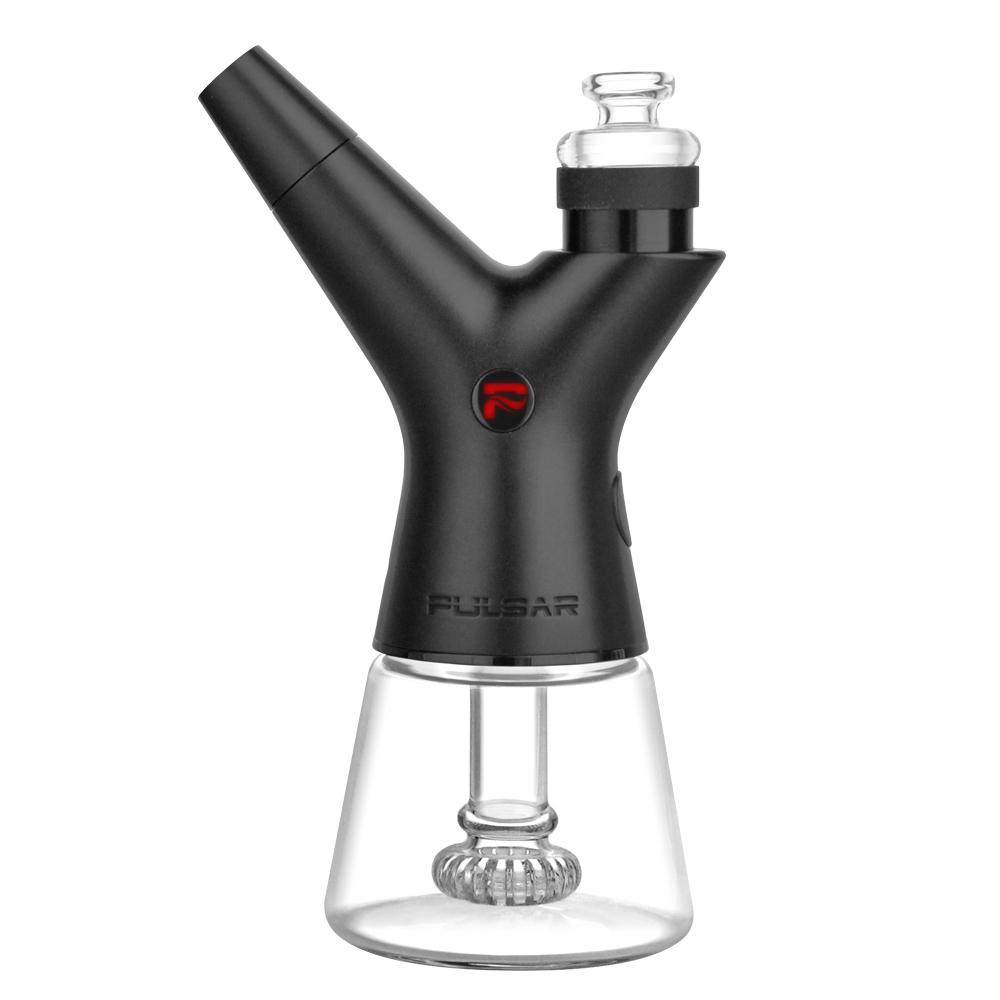 The Pulsar RoK E-dab Rig is a compact device that stands at a height of fewer than 7 inches. Its filtration system is located at the bottom of the rig and is made of durable borosilicate glass. The rig's disc percolator is highly effective at filtering vapor and removing irritants. A feature not many Puffco Peak alternatives have.
Thanks to its extended battery life and small size, the Pulsar RoK E-dab Rig is perfect for vaping on the go. It comes equipped with three temperature settings – 3.4v, 3.6v, and 3.8v – which provide you with a range of customization options for your vaping experience. Whether you prefer subtle and flavorful vapor or strong, visible clouds, this device can accommodate your preferences. The Pulsar RoK goes for $218 like it is now on Smoke Cartel linked here.
In the box, you will get: 1x RoK All-Metal Electric Dab Rig Base 1x Quartz Coil 1x Dry Herb Coil 1x Silicone Collar 2x Airpath Tubes 1x Glass Downstem 1x Concentrate Carb Cap 1x Herb Carb Cap 1x Mouthpiece 1x Glass Beaker Base 4x Pre-Loaded Alcohol Cotton Swabs 1x USB Charger 2x Cleaning Brushes 1x Metal Dabber.
6) DabTech Elite Plus Vaporizer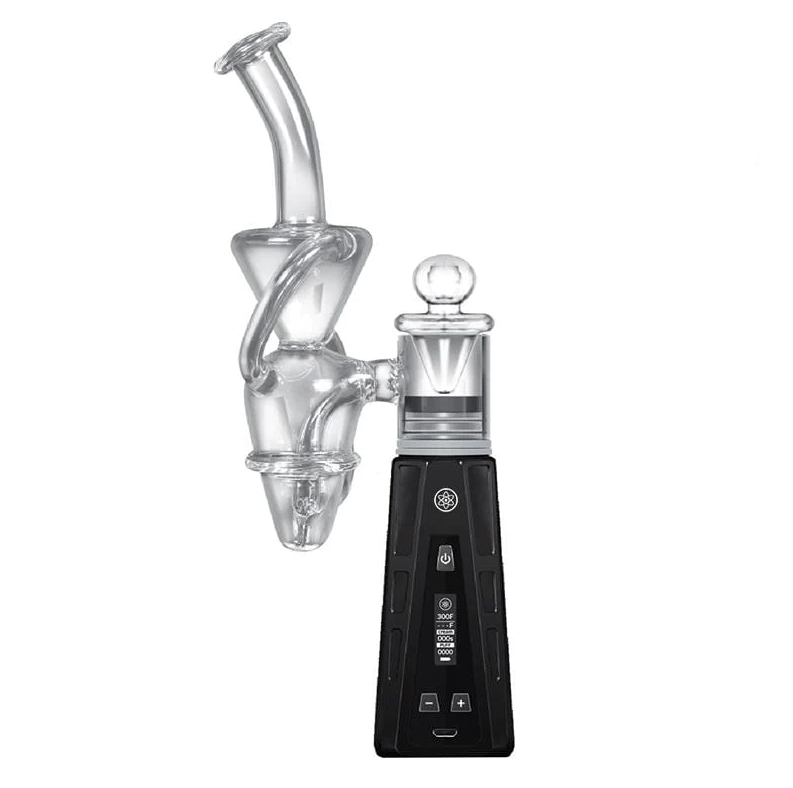 Equipped with three different concentrate nails (titanium, quartz, and ceramic), the Elite Pro allows you to customize your dabbing experience to achieve the exact flavor, consistency, and terpene profile you desire. The digital display keeps you informed of the temperature setting, while the glass bubbler attachment delivers smooth, water-filtered hits.
The Elite Pro boasts a sleek, compact design and offers a temperature range of 280°F to 800°F, which can be easily adjusted with the push of a button. With its rapid heating technology, you can enjoy your favorite dabs in under a minute, anywhere and anytime.
Powered by a long-lasting 3,000 mAh battery, the Elite Pro provides approximately 25 to 40 days per charge. Crafted from durable aluminum, the Elite Pro is built to withstand the wear and tear of daily use, and the included spill-proof bubbler is made from sturdy boro glass for added protection. Retailing for $200 linked here makes it a great Puffco Peak cheap alternative e-rig.
In the box you will get: 1x DabTech Elite Plus with Battery 1x Glass Recycler 1x Stand 1x Quartz Carb Cap 1x Titanium Bowl 1x Ceramic Bowl 1x Quartz Bowl 1x Loading Tool 2x Alcohol Pads 3x Alcohol Sticks
Cheap Puffco Peak Alternatives
1) XVape Vista Mini 2 Electric Dab Rig Bubbler
A cheap Puffco Peak alternative and all the electronic rigs listed above is the XVape Vista Mini 2 coming in at only $160 on Smoke Cartel linked here. Being on the cheaper side it doesn't have all the features and perks of a higher price electronic rig.
With a height of only 5.75 inches, the Vista Mini 2 is ideal for portable use. You won't have to wait long thanks to its fast 10-second heat-up time. This e-rig comes packed with features, including a 2000mAh battery, four LED heat settings (White 536°F, Green 608°F, Blue 662°F, and Red 752°F), a ceramic heating chamber, detachable boro glass bubbler, wireless and USB charging, haptic feedback, and a replaceable quartz atomizer.
In the box, you will get 1 x Vista Mini 2, 2 x Atomizers, 2 x Replacement O-rings, 3 x Alcohol wipes, 1 x Replacement silicone connect ring, 1 x Dab tool, 2 x Silicone carb cap connectors, 1 x Acrylic keck clip, 3 x Cotton swabs, 1 x Funnel, 1 x USB cable
2) VLAB Halo Smart E-Rig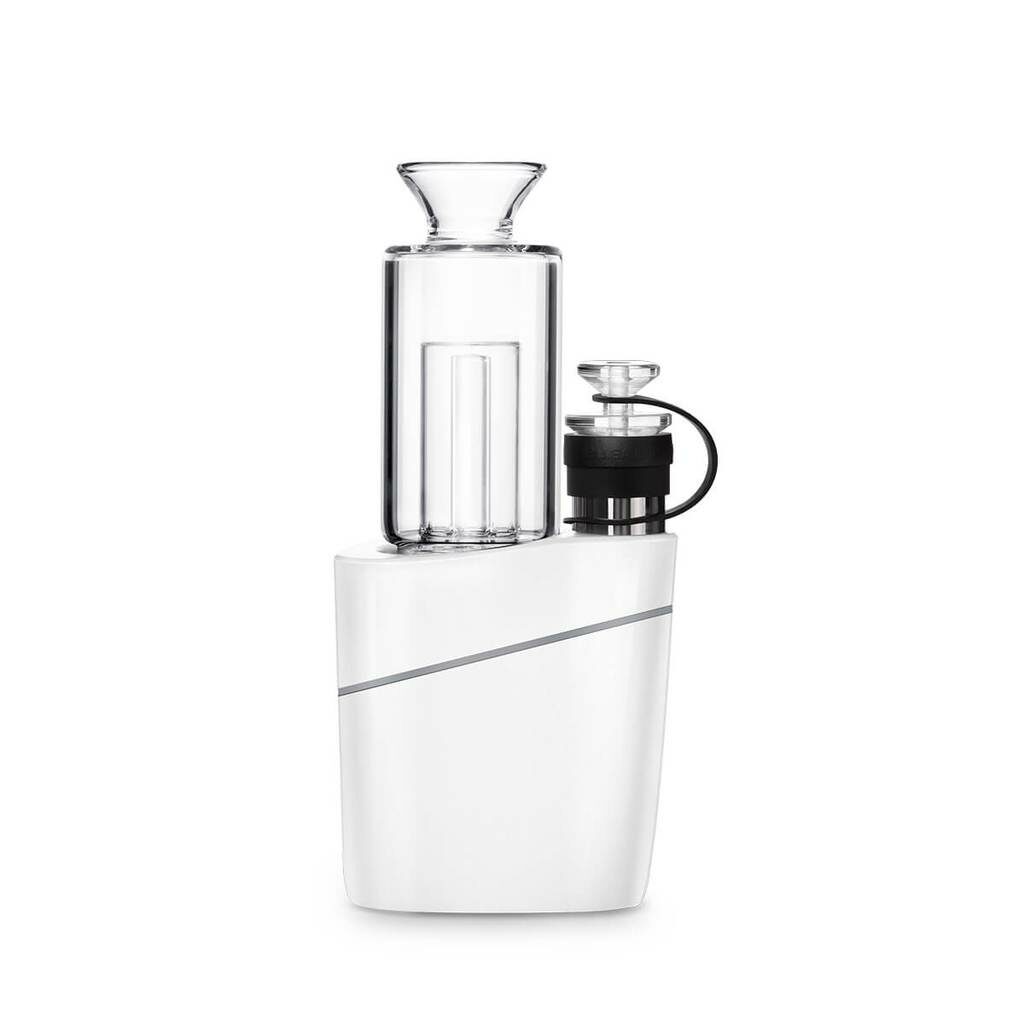 The VLAB Halo stands out as the most petite and condensed electronic rig in comparison to the others. It is currently priced at $150 on Smoke Cartel linked here, which makes it an excellent and cost-effective cheap Puffco Peak alternative. The VLAB Halo has four preset temp settings (480F, 600F, 680F, and 750F), precisely calibrated to extract the most beneficial active ingredients in your concentrates. Its nichrome coil heats quickly with high resistance, and the 8-hole percolation system preserves flavors. Its slim and intuitive design provides a comfortable dabbing experience with ideal temperature settings for different forms of wax.
In the box, you will get 1x – HALO Portable E-Rig 1x – Glass Water Bubbler 1x – Glass Carb Cap with Tether 1x – Quartz Bucket 1x – Ceramic Bucket 5x – Cotton Swabs 2x – Alcohol Pads 1x – Silicone Storage Container 1x – Dab Tool 1x – USB-C Charging Cable.
Conclusion:

There are many Puffco Peak alternatives cheap and not out there but they all still are around $100 plus. If that is still over your budget then maybe sticking to the glass rig and torch is the route for you. There are the smaller wax pens but which go for around $100 but they are much harsher to hit and not as reliable as a rig. The biggest Puffco alternatives are the Focus V Carta, Dr. Dabber Switch, and Crossing Core. These are all great Puffco alternatives that have all or close to all the features of both the Puffco peak pro and Original. They have good temperature settings proving a smooth hit to smoke from. These Puffco alternatives also have a decently larger user base reporting back on tips and tricks on how to use the device most efficiently. To find sales on Florida dispensary concentrates click here. Thanks for reading and hope you stay safe and stay medicated!