Concentrates are a super popular product in the cannabis community but as more people get introduced to the wonderful properties of cannabis, many ask how to smoke concentrates and what tools do you need to do so? As many of you know concentrates are products that are extracted from the cannabis plant to get the most THC CBD and terp profile. They are very dense and potent which punches a strong kick of THC and CBD into your lungs. Concentrates come in many forms like wax, shatter, crumble, shatter, rosin, distillate, and more. They are all the same and the main thing separating them is the consistency of the product in how liquidy or hard is it. Here in Florida, all medical dispensaries sell concentrates in one form or another. For many, it's a great way to get the levels they need out of the cannabis plant to find relief for their symptoms. throughout this blog post, we will go over how to smoke concentrates from the cheapest to most expensive ways. If you are a Florida medical marijuana patient click here to see all Florida dispensary deals and discounts.
How To Smoke Concentrates:
No matter how you choose to smoke your concentrates the principle is the same regardless of the method. By heating up some kind of glass, metal, or ceramic to a high temperature and then dropping in the concentrates do the concentrates start to smoke which releases all the THC, CBD, and terpenes within them. It is important to know that the temperature needed to smoke concentrates is higher than the temperature needed to smoke flower. This is why many concentrate smokers rely on propane torches or electric heaters to warm up their tools. Also, it helps to have some kind of dab tool which is a metal pick or spoon-looking tool that helps pick up concentrates. Can you put some concentrates on top of your flower in a bowl or joint and smoke it? Yes, you can but since the temperature might not be as hot as it needs you might not get the full effects of the concentrates.
How To Smoke Concentrates: Honey Collector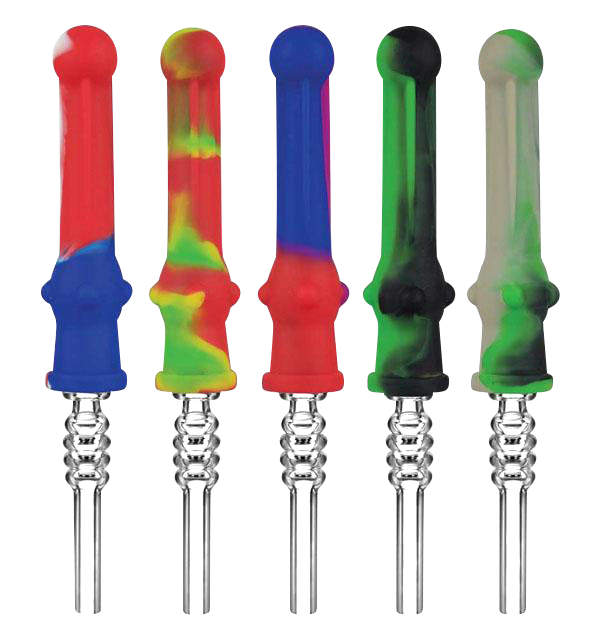 Honey collectors or nectar collectors are one of the cheapest ways and the easiest way to get into smoking concentrates. A honey collector can be bought almost anywhere glass pieces are sold and cost around $25. Smoke Cartel has a bunch of different kinds of styles and designs for sale check them out here. You also need a heat source which is most people use for propane torch from smoke shops or camping stores. To use the honey collector you place the concentrates you want to smoke on the little silicone pad, heat up the tip of the honey collector until it's red hot, and with your mouth on the other end press the heated side onto the concentrates. This should cause the concentrate to smoke up and sucking in from the honey collector should create a vacuum effect where the majority of the smoke will be sucked into. Yes, you are going to waste some product but it's the way it goes. The more you use it the better you become and the less you waste. This is one of the first things people say when asked how to smoke concentrates.
How To Smoke Concentrates: Glass Rig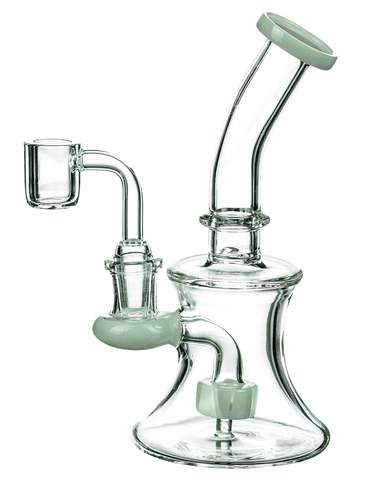 The better way to smoke concentrates to get the full effect and taste is through a glass oil rig. This is the most popular way people smoke concentrates and offers much than the honey collector. Glass rigs are smaller than traditional flower water pipes as they do not need all the space for smoke to stack up. They also have what's called a "banger" instead of a bowl. The price ranges a lot for glass rigs as some are considered art but the one linked on the right goes for $60 at Smoke Cartel. The way it works is first but a little bit of water in like a flower pipe to filter and cool the smoke. Then start heating the banger until it's red hot like the honey collector. People recommend waiting a few minutes for the banger to cool slightly before dropping in the concentrates the amount of time is up for debate. Then drop the concentrates in the banger. After it starts melting and emitting smoke cover the banger with a silicone container or glass top to trap all the smoke in so you don't lose any. Glass rigs are the best middle ground on how to smoke concentrates they can be cheap yet effective and are easy to handle.
How To Smoke Concentrates: Electronic Rig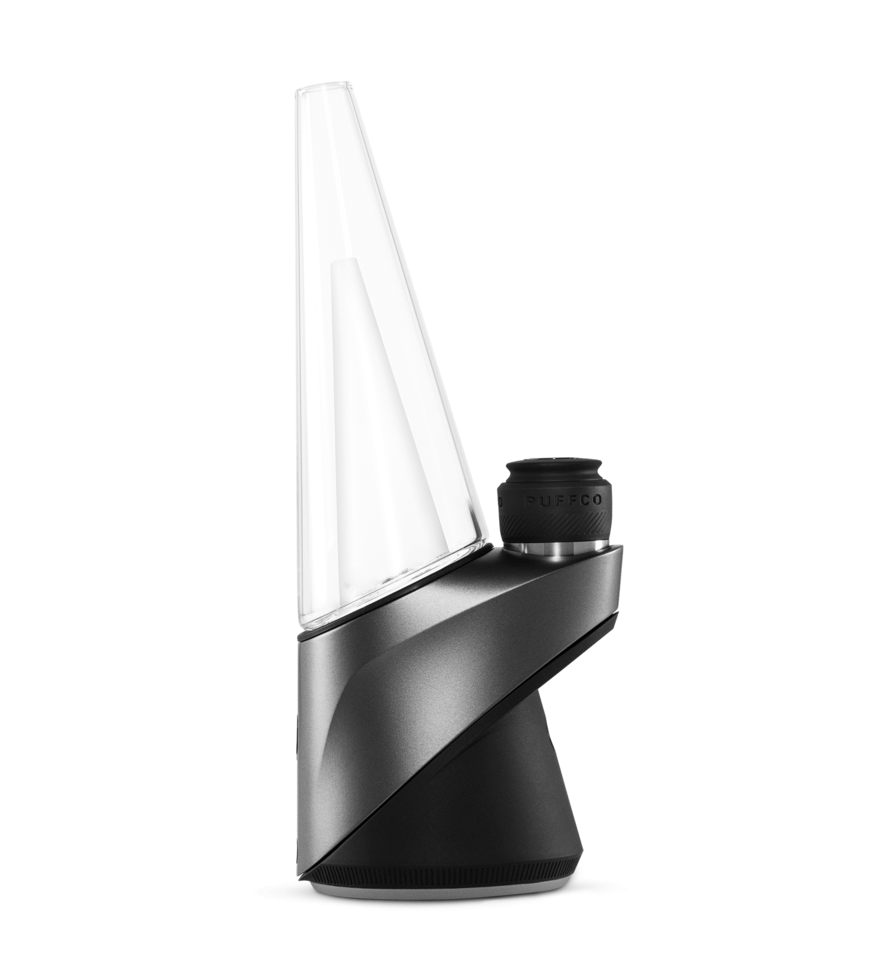 Electronic rigs are a step up from normal glass rigs. As they heat up electronically and have some cool electronic features. They offer the same benefits as glass rigs but are much more convenient as they do not any heating source like a propane torch which means they are much easier to handle and use. They offer features like different temperature mods, automatic cool-down clocks and many have wireless apps to see the battery life or set the temperature. Most have a glass or ceramic banger that you can drop the concentrates in and also have a space to put water in. The catch is the price. The Puffco Peak Pro which is what is linked to the right and the most popular kind of electronic dab rig retails at $300 at Cream City Vapes. A high price but you do save money by not having to buy more propane to heat up the glass oil rig. Many others in the $150 to $300 range. To see a cheaper alternative to the Puffco Peak Pro click here.
How To Smoke Concentrates: Dab Pen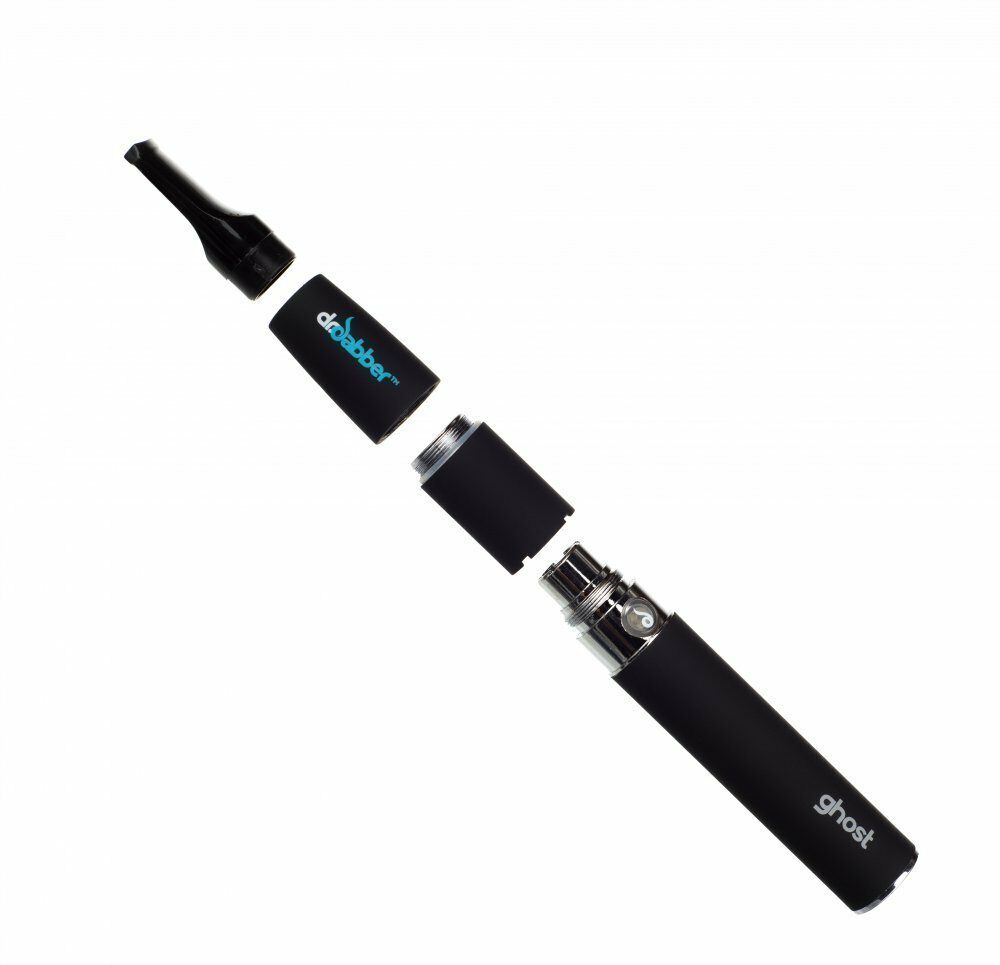 Dab pens or oil pens are a handy and super convenient way to smoke concentrates. Unlike the electronic rig, these are pen-shaped can be easily fit in your pocket or bag. They do not need any water so the hit is much harsher than a glass or electronic rig. Like the electronic rig, you want to go with a reliable brand that has high reviews from the community. Linked to the right is a Dr. Dapper Ghost Vaporizer which retails for $70 at Smoke Cartel. There are much cheaper and much more expensive dab pens out there but it is important to do the research and make sure it works well and efficiently. To use most dab pens the top can be removed and there you will find the "banger" where you can drop in the concentrates put the top back on and hit and hold the button to start heating up the coils. Then suck in and inhale the smoke. Overall super easy and convenient to use and it just comes down to getting a good reliable pen.