The Mighty vs Crafty has been a long debate for some time now. Both powerful dry herb vaporizers made by Storz and Bickel that accomplish the same goal of offering a portable smooth dry herb vaping experience.
Vaping cannabis is becoming more and more popular as more states legalize cannabis for both medical and recreational use. Vaping cannabis can provide not only a much smoother way to consume cannabis and all its compounds but a much healthier way as well. When vaping compared to regular smoking you do not inhale any of the harsh carcinogens included in smoking. Plus when vaping you have more control over the temperatures allows you to get more of the terpenes in the cannabis plant that would be burned up by a lighter or flame.
When comparing the Mighty vs Crafty they share more similarities than differences with the biggest differences being price and size. Both have a similar look, build of medical-grade plastics, same size chamber and both use convection and conduction heating to vape the dry herb. We will go into depth in some of the similarities and differences between the Mighty vs Crafty to see which is worth buying and which is right for you. Do note we are referring to the most recent versions of the Mighty vs Crafty being the Mighty+ and Crafty+.
Mighty vs Crafty: Similarities and Differences
Similarities
-Same accessories (normal and coarse screens, Dosing capsule, and cleaning brush)
-Hybrid heating convection and conduction
-Same size chamber
-Same way to clean
-Same way pack and smoke from
-Both use high-quality medical-grade plastic
-The same temperature range from 40C – 210C
-Both have Super Boost Mode
-Only dry herb
-Both have a ceramic-coated filling chamber
-Both have some pass-through charging options. Mighty does it better, Crafty must be at least 20% charged
Differences
-Mighty is larger than the Crafty
-Mighty(4600mAh) has a larger battery than Crafty(2800mAh)
-Mighty can do more sessions than Crafty
-Crafty($279) is cheaper than Mighty($399)
-Crafty has a flat base while Mighty is oddly shaped
-Mighty has a built-in display and tempenture controles
-Crafty uses simple button controls and app
-Mighty(30W) has slightly higher watt power than the Crafty(27W)
-Mighty slightly smoother due to the larger size
Mighty vs Crafty: Is The Mighty Plus Worth It?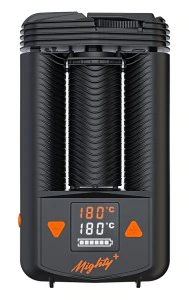 Yes, the Mighty Plus made by Storz and Bickel the same people who made the desktop Volcano vaporizer is a vaping beast. It uses a 30W hybrid convection and conduction heating inside a ceramic-coated filling chamber to heat up and vape the dry herb. It has an on-body display that lets you see and adjust the temperature of the device and see the battery life remaining. Overall a quality device with a smooth vaping experience.
The Mighty+ has about double the battery life of the Crafty+ with the Mighty getting 8-12 sessions per charge plus it uses a USB-C cable for fast charging. It allows for pass-through charging which lets you use the device while it is plugged in and charging. With the Mighty being bigger than the Crafty the hits are a little bit smoother since the cooling unit is about 2cm longer.
Some of the biggest drawbacks of the Mighty+ are its large size and price. The Mighty+ has a weird bottom which can have trouble standing upright if the pick is not reversed around which can make setting it down or filling difficult. The other big concern when talking about the Mighty vs Crafty is the price. The Mighty + retails for $399 linked here at cream city vapes.
Mighty Pros: Larger battery, more sessions, onboard display with tempenture and battery controls, easy to clean, Super Boost Mode, pass-through charging, and faster charging,
Mighty Cons: Larger device, difficult to set up right, can not turn the display off, no app, and higher price.
In the box is included: 1 pc. MIGHTY+, 1 pc. USB-C Cable (USB type C to USB type A plug), 3 pcs. Normal Screen, small, 3 pcs. Coarse Screen, small, 3 pcs. Base Seal Ring, small, 1 pc. Dosing Capsule, 1 pc. Cleaning Brush, 1 pc. Instructions for Use
Mighty vs Crafty: Is The Crafty Plus Worth It?
Yes, the Crafty Plus is another amazing device by Storz and Bickel which has many similarities to the Mighty Plus in a smaller form factor and cheaper price. It uses a 27W hybrid convection and conduction heating inside a ceramic-coated filling chamber to heat up and vape the dry herb. The Crafty does not have an onboard screen relying on button pushes and the onboard app to set desired temperatures.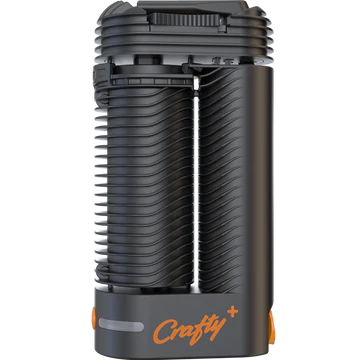 Holding down the orange button on the side will turn the device on and start preheating the device to the default tempenture of 180 degrees celsius indicated by the red light. When the light turns green and vibrates it is ready to use. Double-clicking the orange button will put it into Super Boost Mode raising the tempenture to 195 degrees celsius by default. Both the base and super boost temperatures can be changed within the App.
Through the app, you can control the temperature, lights, vibrations, and remote turn on or off. The Crafty has a smaller battery life than the Mighty and can go for around 5-9 sessions a charge. The price beats the Mighty at $279.99 retail at Cream City Vapes linked here.
One important thing to keep in mind is if you are experiencing short battery life go into the app and turn off remotely Bluetooth this disables the remote turn on or off but it can boost your battery life by letting you get more sessions in.
Also, keep in mind the STORZ & BICKEL App is currently not available on the Apple App Store. However, settings on the Crafty+ can now also be adjusted through their WebApp.
One major difference between the Mighty vs Crafty is the crafty being flat on the bottom making it much easier to sit upright while the Mighty is oddly shaped on the bottom. There are two versions of the Crafty one with Mini USB and one with USB-C charging. USB-C of course offers a faster charge. The newer crafty does offer pass-through charging allowing you to use the device while charging but only if the battery is more than 20% full. They are the same price so might as well go for the newer version. Check out the Pax 3 vs Crafty article we have comparing the two.
Crafty Pros: Smaller device, easily can fit in a pocket, same size chamber as Mighty, cheaper in price, USB-C version offers fast charging, Super Boost Mode, easy to clean, device control through an app, ability to turn on and off lights and track usage through the app and can stand upright.
Crafty Cons: Smaller battery, fewer sessions, app issues, and slightly harsher than the Mighty.
In the box(USB-C version): 1 pc. CRAFTY+, 1 pc. USB-C Cable, 3 pcs. Base Seal Ring, small, 3 pcs. Normal Screen, small, 3 pcs. Coarse Screen, small, 1 pc. Dosing Capsule, 1 pc. Cleaning Brush, 1 pc. Instruction for Use
Mighty vs Crafty: Conclusion, Which One Should You Buy
The decision to get the Mighty vs Crafty really comes down to where are you going to be using the device and how much cannabis you smoke on a daily bases. Of course, price is another concern. If you are on a tighter budget then the Crafty+ is the better option as it is over $100 cheaper than the Mighty.
With price out of the question, it depends where you plan to use the Mighty vs Crafty. If you are going to only or mainly use the device at home then the Mighty is the go-to as the bigger size and odd base won't really affect you if you have a dedicated spot for it. But if you like to go on adventures or move around a lot and want to take your vaporizer with you then the Crafty is the winner as it can easily fit in a pocket and is easy to place down anywhere with its flat bottom.
If you smoke a lot of dry herb cannabis throughout your day then the Mighty might be better with the larger battery you can get much more sessions out of a single charge compared to the Crafty with half the battery life. Regardless both are super solid vaporizers from a very reputable brand that are built to last years. Overall when it comes down to the Mighty vs Crafty we like the Crafty for its portability and cheaper price offering more or less the same experience as the Mighty at a cheaper price and more of a handheld device. Granted we need to charge it more often.
We hope this post was informative and helpful in making a decision. Stay medicated!