The Puffco Peak vs Peak Pro has been a debate ever since the Peak Pro was released. We all know Puffco's great reputation with the production of some exceptional electronic dab rigs. They have been the leaders in e-rigs for some time and are compared to the Apple of E-rigs for the simplicity and prices of their products. Using their products is literally a piece of cake and with countless youtube and Reddit threads about the device learning the tips and tricks is also super easy. You get accustomed to their products quickly. In general, Puffco products are easy to use, build for the job, and have great quality ensuring they last a long time.
E-Rigs have changed the dabbing and concentrate community forever. They have made our lives easier as they are quite simple to use. The Puffco Peak vs Peak Pro has been a long debate as both devices have a large number of people saying the old one is better or the new one is better. Both these are exceptionally good at performing their jobs. But which one is right for you? You will get to know by the end of the article.
| | | | |
| --- | --- | --- | --- |
| Device | Price | Link | Dabs Per Charge |
| Puffco Peak | $250 | Here | 30 Dabs Per Charge |
| Puffco Peak Pro | $400 | Here | 30 Dabs Per Charge |
Similarities
-Similar look and build
-Same glass top
-Concentrates only
Differences
-Puffco Peak Pro has a larger bowl
-Puffco Peak Pro has temp control via app
-Puffco Peak Pro has wireless charging
-Puffco Peak allows for different inserts
Puffco Peak Vs Peak Pro: The Puffco Peak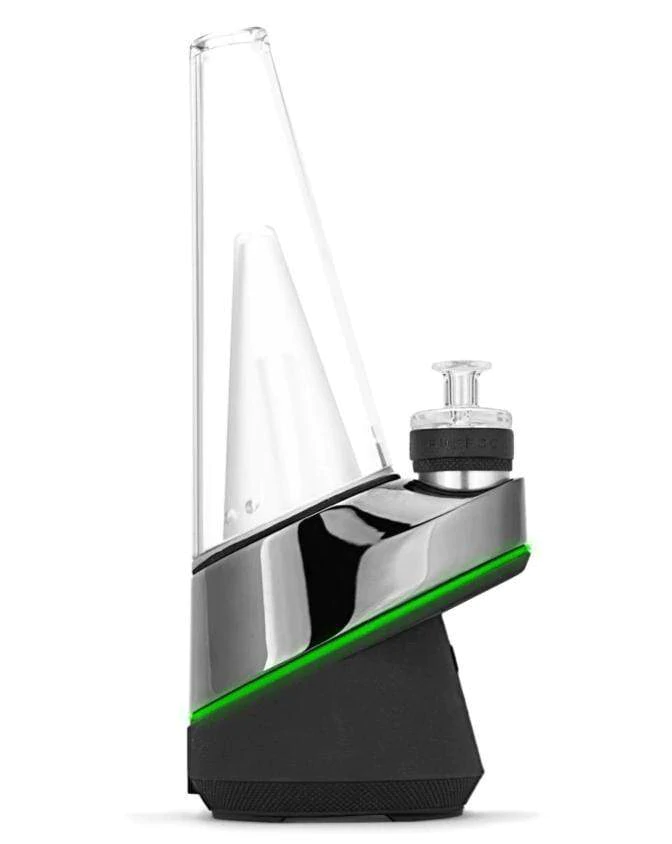 The Puffco Peak came out in the first quarter of 2018. Making it at the time of writing a 4 year+ old device. With that said the device still is wildly available in stores and still a popular option. It looks futuristically and was a game-changer when it stepped onto the scene. It is a reliable product that has some great features and comes with a ton of accessories.
The Puffco breaks down into two main components. The rechargeable base holds the battery and atomizer and the glass top which holds the water to cool the smoke. The Puffco Peak retails for $250 but can be found for as less as $150 at Cream City Vapes.
The Puffco Peak offers different tempenture settings. In total, there are four unique temperature settings with an average heat-up time of 20 seconds. A typical dab rig with a banger and propane torch can take almost three minutes to heat and cool. But with Puffco Peak, you can do it almost instantly as you wish. There are light bands around the device that act as indicators for heat cycle and battery. Puffco Peak takes no more than two hours to get completely charged. Compared to other typical dab rigs, this charging time is very reasonable. Once charged, it lasts for around 30 dabs.
One main factor people are still buying the Puffco Peak is the ability to change inserts and heating elements to suit your dabbing style. This lets you replace the stock ceramic bowl with titanium, quartz, or SIC bowls which all have their own perks and cons to using.
One downside of the Puffco Peak vs Peak Pro is some users think the onboard tempenture settings are too harsh and or too high. While this is purely subjective some say the tempenture settings are not balanced and find the last two heat settings to be way too hot to use. You might disagree but keep that in mind.
Some are better for higher temperatures and some help bring more flavor out of the concentrate. On the Puffco Peak Pro, you can not switch out the bowls because the atomizer is one piece.
In the box: PuffCo Peak, Carrying Case, Cleaning Swabs, Loading Tool, Micro USB Charger, Extra Ceramic Bowl
Puffco Peak Pros and Cons
Puffco Peak Pros: Affordable compared to other Erigs, easy to clean, easy to use, ability to change inserts
Puffco Peak Cons: Smaller bowl, you might not be happy with the onboard tempenture settings.
Puffco Peak Vs Peak Pro: The Puffco Peak Pro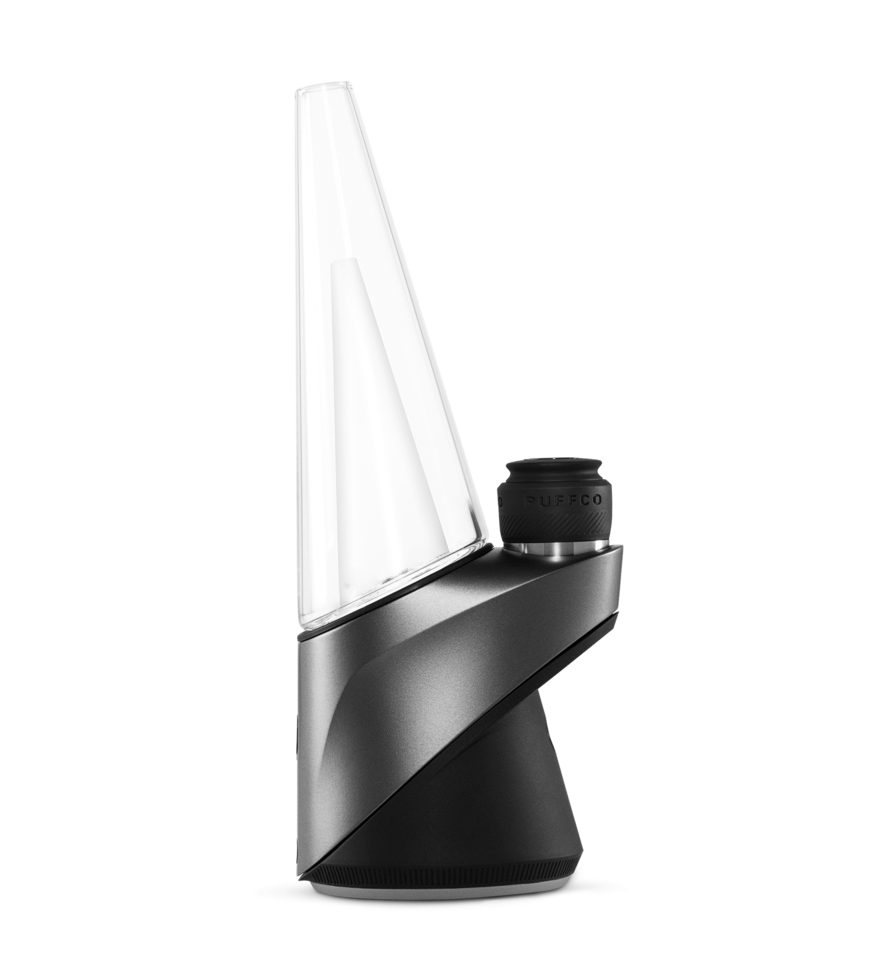 The Puffco Peak Pro is nothing but the upgraded version of the previously launched Puffco Peak. The Pro came out in late 2020 so around 2 years after the original Puffco Peak came out. The devices look almost identical with some minor differences with both having similar rechargeable bases and identical glass tops.
The glass tops being identical was actually an intended decision to allow users who purchase 3rd party glass tops for their original Puffco Peak to still be able to use it on the Pro. The Puffco Peak Pro retails for $400 dollars but usually goes for around $320 at Cream City Vapes. Check out our other blog posts about Puffco Peak Alternatives.
The biggest upgrades from the Puffco Peak vs Peak Pro are the addition of the Puffco App, wireless charging, and increased bowl size. Through the Puffco App, you can set the tempenture remotely and set the color of your device to set the mood. This is a big change from the old Puffco Peak with only 4 tempenture modes now users can set a custom tempenture through the app to get that perfect hit. Also, the app shows you dabbing statistics like how much you take per day and your average temperatures.
Wireless charging is becoming more and more popular with devices these days like smartphones, tablets, and headphones. While not everyone will use it it's nice to have wireless charging capabilities as it becomes more normalized. The size of the bowl has been increased by 40% letting you take larger dabs compared to the Puffco Peak.
One of the biggest downsides of the newer Puffco Peak Pro is the all-in-one atomizer and chamber. This means you can no longer switch out the inserts of the atomizer or replace them when it breaks. For the Puffco Peak Pro, you need to buy an entire new atomizer when it breaks or gets too clogged up. A big downside for those who have gotten used to replacing their inserts with other inserts on their Puffco Peak.
In the box: Metal loading tool, Dual tools (fancy Q-tips), AC adapter, USB-C cable, Carb cap tether, Oculus carb cap, Chamber, Glass Peak Pro Base, Carrying Case
Puffco Peak Pro Pros and Cons
Puffco Peak Pro Pros: Ability to use same Puffco Peak glass top, easy to use, easy to clean, bigger bowl, wireless charging, an app to set tempenture /colors
Puffco Peak Pro Cons: Price being on the high side of Erigs, all in one atomizer
Which One is Better? Puffco Peak Vs Peak Pro
Both the devices have a lot to offer; the difference is that Puffco Peak vs Peak Pro is an older version with more physical customization vs the upgraded version with more features and even better control. Which device you pick comes down to your choice. If you are on a budget and or want something that you can tinker with more and change out the inserts or bowls then the Puffco Peak might be it. If you want the latest and greatest and or smoke a lot of concentrates then the Puffco Peak Pro might be the way with the larger bowl and complete control over the temperatures.
When considering their prices, you will find The Puffco Peak way cheaper. It can be purchased for $149, while The Puffco Peak Pro is for $319. Since the Peak Pro has a lot to offer, you will definitely find it worth the price.
Both the devices have some outstanding features and are community favorites. Hope this was informative to help you make a decision on which one to pick up. Stay medicated!