Consuming medical and recreational cannabis through dabbing concentrates has become increasingly popular in recent years. These concentrates, including all different kinds of consistencys like rosin, resin, shatter, crumble, and wax, deliver a strong flavor and experience due to their high potency. When dabbing, a small amount of concentrate is heated to high temperatures, creating vapor. This method is efficient because you only need a tiny quantity, hence the term "dab." Traditionally, dabbing involves a glass water piece, or "rig," a bowl known as a banger, and a propane torch for heating. Getting the temperature right can be tricky when doing it visually. However, electronic rigs have made this easier. They can heat the bowl to the perfect temperature for the most vapor and best flavor. Puffco is a well-known brand in this field, recognized for its range of devices seen online and in stores. Now, there's growing competition with other brands offering Puffco alternatives, some even featuring additional functionalities.
Puffco's Own Products:
Puffco Proxy: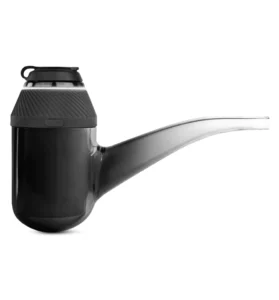 The Puffco Proxy merges traditional style with modern tech, standing out as a top pick, especially when compared to the Puffco Peak Pro in terms of looks and taste. What really makes the Proxy shine is its innovative 3D Chamber Technology. It heats concentrates from the sides, which is a neat twist from how regular E-Rigs do it. This means you get to enjoy a more efficient and tastier vapor. The kit comes with four preset heat settings, making it super easy to find the right temp for your dabbing sessions.
Crafted with a borosilicate glass body and a ceramic bowl, the Proxy feels solid and comfortable to hold. Its modular bowl design is pretty cool too. It lets you mix things up with different setups, using either Puffco-approved or third-party glass bases. This turns just about any compatible glass piece into a fancy, high-tech dab rig. But there's more to the Proxy than just dabbing. It's got a Disco Mode with funky LED lights and a Boost Mode that's perfect for bigger loads of concentrate. Charging is a breeze with its modern Type-C port. At $299, the Puffco Proxy isn't just a gadget, it's like a gateway to a whole new world of concentrate vaporization.
Puffco Peak Pro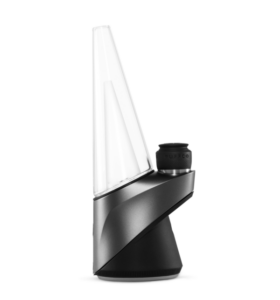 The Puffco Peak Pro is the most popular device in the world of electronic rigs, and it's easy to see why. It's super sturdy and innovative, packed with features like glass mouthpieces, different temperature settings, quick charging, and a battery that just keeps going. Plus, there's a huge community of users. With a price tag of $350, it's definitely an investment in quality and performance. Its design and features have set a benchmark and standards for an electric dab rig.
The Puffco Peak, the second in the Puffco Peak series, is often considered the gold standard for E-rigs. It boasts a 40% larger chamber than its predecessor, heats up in just 30 seconds, and comes with a carb cap and tether for better airflow. The precise temperature control guarantees consistent flavor, and the app adds even more ways to personalize your experience.
The Puffco Peak Pro's huge popularity has sparked a vast market of add-ons and upgrades. There are Puffco-branded enhancements like the Power Dock for wireless charging and the 3D chamber for improved heating. Then there's a world of third-party customizations. Popular ones include bubble carb caps and custom glass tops and tethers, letting users tailor the look and feel of their device. For many Puffco veterans, their rigs have evolved to be almost unrecognizable from the original model.
Puffco Peak Original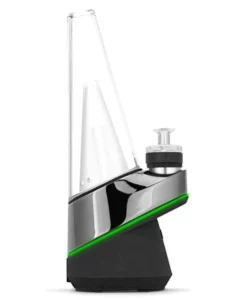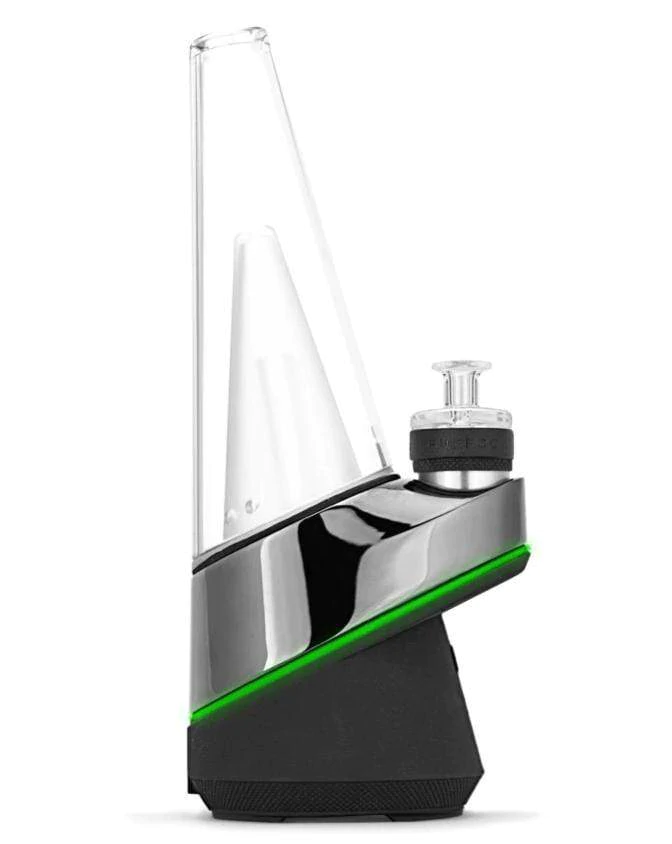 The Puffco Peak Original is a trailblazer in concentrate vaporization, offering an inviting experience for both beginners and experienced users. Priced at $170, it's the forerunner to the Puffco Peak Pro and continues to have a dedicated following, despite the minor temperature inconsistencies typical of the earlier models from 2018.
As one of Puffco's earliest electronic devices, the Peak Original has its quirks but also unique features that didn't carry over to later models. A notable advantage is its versatility with bowl insets and heating elements. You can completely swap these out for any aftermarket options, giving you the freedom to experiment with different materials like quartz, SiC, ceramic, and titanium. Each material offers a distinct dabbing experience. In contrast, the Puffco Peak Pro features an all-in-one atomizer, and its 3D chamber isn't designed for disassembly. Unfortunately, the original Peak doesn't support the Puffco App, which means missing out on temperature and light customization, as well as the dab counter.
The Peak Original is also known for its dynamic LED light band, which adds a stylish touch and serves as a temperature indicator. Its user-friendly design is a big plus. Starting a heating cycle is as simple as a double-click, and the "Sesh-Mode" is great for extending sessions and making them more social. All in all, the Puffco Peak Original is a straightforward and budget-friendly entry into the world of dabbing.
Best Puffco Alternatives
2) DR. Dabber Boost EVO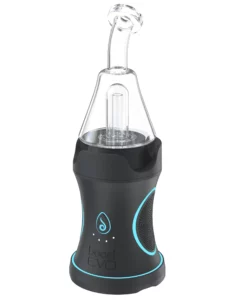 The Dr. Dabber Boost EVO has been a popular choice for those looking for an alternative to Puffco vaporizers, appealing to both new and seasoned vapers. One of its standout features is its heating speed, which can reach one of its six preset temperature settings in just 11 seconds.
Using the device is a breeze. You can easily navigate through the temperature settings with a simple press of the home button. The display lighting changes color to indicate each temperature setting, making it straightforward to know your current setting and to adjust it if needed. The temperature ranges from Purple: 260°C (500°F) to White: 399°C (750°F), covering a wide spectrum for different vaping preferences.
The Boost EVO also boasts a durable battery life, capable of up to 60 sessions on a full charge. A standout safety feature is the temperature sensor, designed to prevent short circuits and overheating, thus protecting the battery. Additionally, the device has an automatic shut-off feature that activates after 15 minutes of inactivity, ensuring safety and conserving battery life.
The magnetic quartz atomizer and quick-connect adapter are two notable features. The magnetic atomizer ensures a leakage-free experience and a direct airpath for vapor, and its magnetic design makes it easy to remove for cleaning. The quick-connect adapter, positioned between the atomizer and glass percolator, functions like a carb cap, allowing you to control the airflow intake.
Priced at $300, the Boost EVO is an attractive option for those in search of a high-quality vaping experience, offering flexibility, ease of use, and excellent performance.
3) DR. Dabber Switch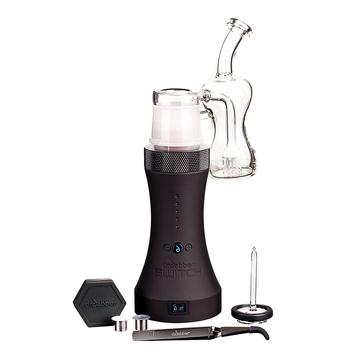 The Dr. Dabber Switch offers a versatile and impressive alternative to the Puffco line of electronic dab rigs. Priced at $375 and developed by Dr Dabber, a renowned name in the vaping world, it stands out with its advanced technology and exceptional features.
A standout feature of the Switch is its induction heating technology. This innovative method uses magnetic energy to generate heat, distinguishing it from the more common convection or conduction heating. This approach not only provides a smooth vaporization experience but also allows for precise temperature control. The device boasts an extraordinary range of 25 heat settings, enabling users to tailor their experience to different consistencies of oils. The Switch can handle both wax and herb, coming equipped with a black ceramic induction cup for ground herbs and a white ceramic cup for oils.
The Dr. Dabber Switch is loaded with useful features like self-cleaning, cool-down mode, and stealth mode. The self-cleaning mode efficiently burns off any residual substance in the induction cups, ensuring a clean and smooth hit every time. The cool-down function is indicated by the LED lights turning blue, signaling that the device is cooling down. This feature is not just about safety; it also helps to prolong the battery life and overall longevity of the device.
For those seeking discretion, the Switch includes a stealth mode. In this setting, the glass top provides functional indications without bright lighting, ideal for low-key sessions where privacy is preferred. Moreover, its capability for passthrough charging means you can continue using the device while it's charging, adding to its convenience.
Cheap Puffco Alternatives
1) VLAB Halo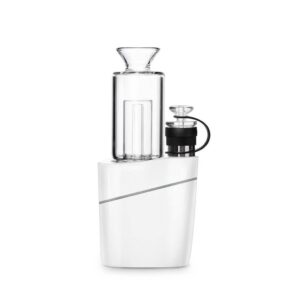 The VLab Halo Smart E-Rig emerges as an enticing Puffco alternative, offering a feature-packed and affordable way to delve into the rich flavors and potency of waxes and concentrates. This budget-friendly handheld e-rig is designed to enhance your at-home vaping experience with its quick 15-second heat-up time and a 30-second session timer. It comes preloaded with three temperature settings, making it easy to adjust the heat for different types of concentrates: 482°F (250°C) in green, 599°F (315°C) in blue, and 752°F (400°C) in red. The rig also features intelligent haptic vibration technology to signal changes, and it has a 2-minute auto shut-off feature for safety and battery preservation.
The VLab Halo Smart E-Rig is thoughtfully designed with a glass water bubbler for optimized percolation, a tethered glass carb cap, and a choice of either a quartz or ceramic bucket. This allows you to customize your dabbing experience, whether you prefer the full-bodied flavor from a coil-less quartz bucket or denser vapor and billowy clouds from a ceramic atomizer bucket. Its power-efficient battery charges quickly via a USB-C fast charging cable and can last up to 35 cycles on a full charge.
Priced at just $150, the VLab Halo Smart E-Rig is an accessible and richly featured choice for those seeking an affordable yet high-performing e-rig to explore the world of concentrates. It ensures a satisfying and convenient vaping experience. Additionally, this budget device comes with handy accessories, including a concentrate storage container, a dab tool, a USB-C cable, and more, making it a great choice for a portable e-rig.
2) XVape Vista Mini 2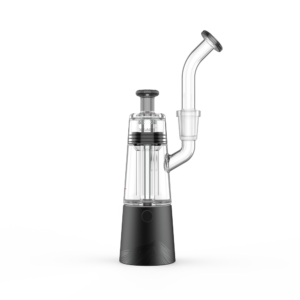 The XVAPE Vista Mini 2 is an attractively priced electric dab rig that stands out for its simplicity and efficiency. Featuring a straightforward one-button ceramic heating chamber, detachable borosilicate glass bubbler, options for both wireless and USB charging, haptic feedback, and a replaceable quartz atomizer, it packs a lot of features into a compact and sleek design.
With a full charge, the Vista Mini 2 can deliver up to 30 dabs and takes about 3 hours to recharge fully. Catering to various dabbing preferences, it offers four temperature presets: White at 280°C (536°F), Green at 320°C (608°F), Blue at 350°C (662°F), and Red at 400°C (752°F).
One of the standout features of the Vista Mini 2 is its wireless charging capability, making it compatible with any Qi wireless charging pad. For those who prefer traditional charging methods, it also supports micro USB charging, with the necessary cable included in the kit.
Priced at just $115, the XVAPE Vista Mini 2 is a great choice for those looking for a budget-friendly electric dab rig. Its user-friendly interface, versatile charging options, and customizable temperature settings make it an excellent handheld device for a satisfying and efficient dabbing experience, all without straining your wallet.
3) Pulsar RöK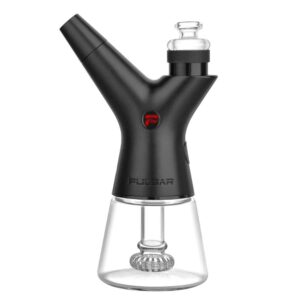 The Pulsar RöK, developed by the US-based brand, is an all-encompassing portable dab rig designed for both wax/concentrate and dry herb enthusiasts. This versatile rig comes with three pre-set temperature options and a special Rök mode, providing a flexible vaping experience.
The kit includes two removable atomizers: a quartz cup for wax and a ceramic cup for herbs. This feature ensures that users can easily switch between their preferred materials. The Rök is powered by a strong 1350mAh battery, capable of delivering about 25-30 sessions on a full charge. Recharging is straightforward and efficient, taking just 2-3 hours with the included micro-USB cable.
The temperature settings on the RöK offer three distinct, color-coded voltage options that exceed the range of most portable vaporizers. The Green setting corresponds to 3.4v or 680°F (360°C), Blue to 3.6v or 780°F (415°C), and Red to 3.8v or 850°F (454°C). These settings give users considerable control to customize their vaping experience to their individual preferences.
Priced at just $150, the Pulsar Rok presents itself as an excellent alternative to Puffco products, appealing to a wide range of vaping preferences. Whether you're into concentrates, dry herbs, or both, the RöK makes the vaping process convenient, versatile, and enjoyable.
Should You Get A Puffco Alternative?

If you're in the market for an electronic dab rig and considering Puffco alternatives that are less than $100, it might be wise to hold off for now. In this price range, the options are limited, and the available products might not offer the quality and durability you'd expect. Often, rigs under $100 are made cheaply and lack longevity. It's generally a better idea to invest a bit more in a reliable brand when it comes to such devices.
When you're ready to spend above $100, you'll start to see more reputable options. Some of the major competitors to Puffco include the Focus V Carta, Dr. Dabber, and Crossing Core devices. These brands are the biggest Puffco competitors and offer rigs that match or nearly match the features of Puffco devices, particularly in crucial aspects like temperature control and usability.
These alternatives also benefit from having a larger user base. This means there's more feedback, tips, and tricks available from other users, which can be invaluable for getting the most out of your device.
Remember, finding the right electronic dab rig is about balancing cost with quality and functionality. And while looking for deals, especially on Florida dispensary concentrates, check out today's Florida dispensary deals. Just be sure to stay safe and make well-informed choices. Stay safe and enjoy your medicating experience!