Focus V Carta V1 vs V2, what's the difference? Can you save money by buying the V1 instead of the new v2 and which one is better? The Carta V1 and V2 are electronic dab rigs made by Focus V that use rechargeable batteries that let you heat the chamber to high temperatures to smoke concentrates. It offers a modern solution to smoking concentrates that does not require torches or dedicated glass pieces and is a good alternative to a Puffco Peak. To see more cheap Puffco Peak alternatives click here. The Focus V Carta V1 is the earlier released original device that hundreds of thousands of users use daily to smoke and enjoy concentrates. The Focus V Carta V2 is the new and improved Carta with top-of-the-line technology aiming to elevate the smoking experience. Which is better the Focus V Carta V1 vs V2? Depends on what you need!
Focus V Carta V2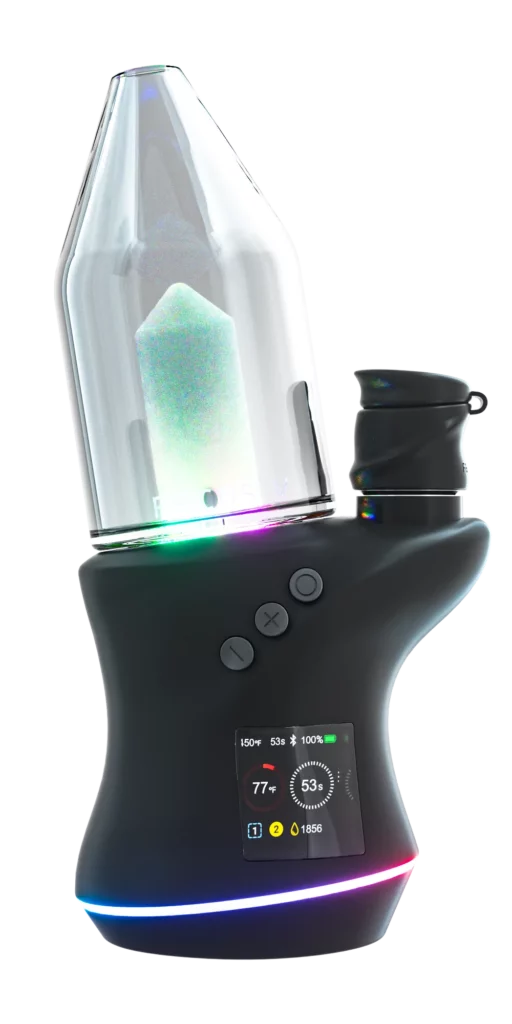 The CARTA 2 is an evolution of the original Carta, enhancing its already exceptional performance with cutting-edge technology and performance. A larger atomizer than the OG Carta, going from 10mm to 14mm for extra dabbing surface area for bigger and better hits. The CARTA V2 has a 360° heating element & optimized airflow for even better performance. The Carta V2 lets you smoke both flowers and concentrates through the device using the right settings. The new mobile app gives you full control over the device with seamless response times and a sleek aesthetic that's easy to navigate. With a new built-in OLED screen displaying everything, you need to know about your device including its battery life, dab counter, set tempenture, and more. Pared with the beautiful LED lights on the device letting you control the look and feel of your device. The new OTA technology allows users to download and update software to keep their CARTA 2 up-to-date. On the device, there are three tactile buttons letting you go up and down for temperature, time, LEDs, and more, and the power button lets you turn the Focus V Carta V2 on or off. Letting you control everything from the device without having to rely on the app during bad connections. The Focus V Carta 2 came out in April 2022 and retails for $345 linked here.
The biggest issue people currently have with the Carta V2 is the battery life. Even with a big battery like the 10,000 mAh battery. Most users say they can get around 10 to 20 dabs on a full charge while on the Carta V1, you could get around 20-30 dabs out of the full charge. Many users say because of the added LED and OLED screen the battery dies faster. Some say turning the device off while in between hits can help save some extra battery life.
Focus V Carta V2 Features:
-Wireless Charging / 10,000 mAh battery
-Bluetooth Connectivity
-Mobile App
-OLED Display
-Customizable RGB LEDs
-USB-C Fast Pass Through Charging
-Supports Oil and Flower
-Top Glass Backwords compatible with Carta V1
In the box: 1x CARTA 2 Smart Rig, 1x Intelli-Core™ for Oil, 1x Intelli-Core™ Cap & Sleeve, 1x Intelli-Core™ Sleeve, 1x Shoulder Carrying Bag, 1x Travel Silicone Stopper, 1x Dab Tool, 1x USB-C Cable.
Focus V Carta V1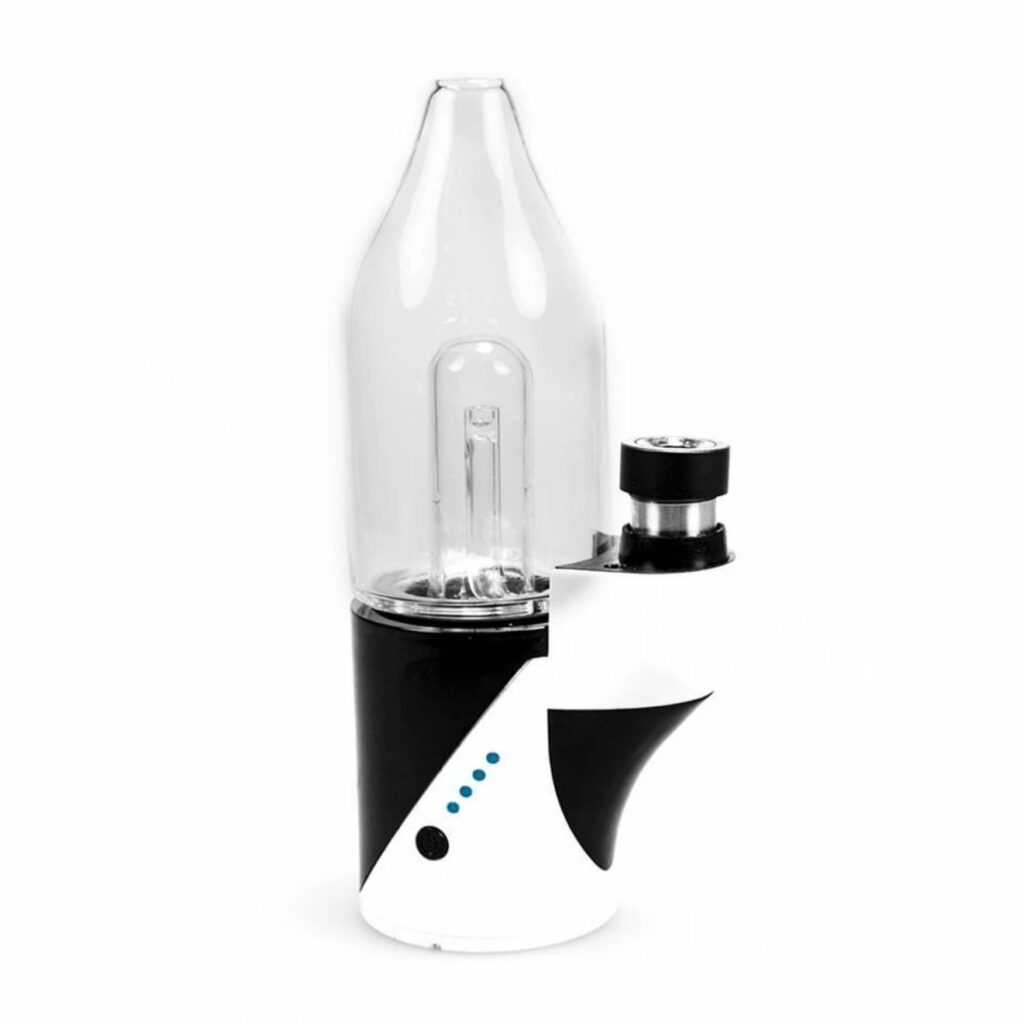 Being the original Carta it doesn't have as many bells and features as the new Carta V2 but smokes concentrates smoothly and effectively. The Focus V Carta V1 is one of few portable rigs where convenience doesn't sacrifice performance. You can expect desktop-level hits free of combustion, no matter whether you're enjoying wax or dry herb. While the Carta V1 doesn't have the fancy OLED display of the Carta V2 it still has great onboard features to control temperature. This dual-use rig offers 4 temperature presets right out of the box ranging from 600°F to 940°F with temperature controls to a single degree available through the Focus V Carta app. Using two 18350 batteries to power the device allows users to interchange batteries in between sessions. This is a lifesaver for some who can't be bothered to wait for the device to charge. Most users say they can get anywhere from 20 -30 dabs from a full charge depending on temperature settings. The Carta V1 retails for $189 linked here.
The biggest issue people have with the original Focus V Carta V1 vs V2 is the sensitive atomizer that seems to break often. Depending on how careful you are and how often you maintain and clean your device your experience may vary.
Focus V Carta V1 Features:
-USB C Fast Charging
-Supports Oil and Flower
-Replaceable Batteries
-Cheaper
In the box: 1 x Focus V CARTA Portable Vape Rig 1 x Borosilicate Glass Carb Cap 2 x Titanium Bucket 2 x Quartz Bucket 1 x Wax Chamber 1 x USB-C Charging Cable 2 x 18350 Batteries 1 x Silicone Wax Container 1 x Dab Tool 1 x Pack of Alcohol Cleaning Wipes 1 x Portable Soft Carrying Case
Focus V Carta V1 vs V2 Conclusion:
Overall for the Focus V Carta V1 vs V2 debate, it depends on your needs and preferences. If you want the newest and shinest device with a fancy OLED display that displays all the information that you will ever need and addressable RGB LEDs to customize your device to match your room and set up. Go with the Focus V Carta V2 it has all the new features you could want and has an improved heating element and bow size. Also going with the newer device helps future-proof you since this is the device Carta will focus on for accessories and support. If you want a more bareback device that is cheaper but still rips hard then go for the original Cara V1. While it doesn't have all the features the Carta V2 has it still has app support that tells you everything the OLED tells you and controls exact temperatures. Overall both Focus V Carta V1 vs V2 are great devices that hit hard and smoke concentrates smoothly and effectively.