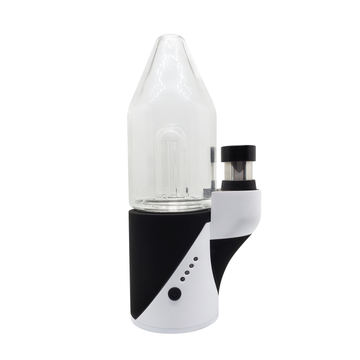 Are any Focus V Carta accessories worth getting? Some are and can not only improve the quality of the experience of using the Focus V Carta but also the quality of the smoke. The Focus V Carta is a very popular e-rig that competes with the Puffco Peak. The Focus V Carta retails for $250 at Cream City Vapes linked here. Alone it works great and many users don't even buy any additional accessories or upgrades and still enjoy the experience. But with just a couple of Focus V Carta accessories, you can improve the experience.
| | | | |
| --- | --- | --- | --- |
| Item | Price | Link | Why |
| Bubble Cap | $20 | Here | Improve Air Flow |
| FadeSpace SiC Bucket | $100 | FadeSpace | Improve Bucket Quality |
| Batteries + Charger | $19-$29 | Here & Here | Longer sessions and healthy batteries |
| Everlast Atomizer | $60 | Here | Upgraded atomizer beater temperatures |
| CARTA browser App | Free | Here | Exact temperature setting and other features |
1st Focus V Carta Accessories: Bubble Cap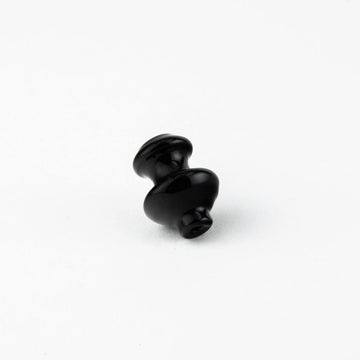 One of the easiest and cheapest ways to improve the smoking experience of the Focus V Carta is to get a bubble cap. The standard cap that comes included with the Focus V Carta does the job but getting a bubble cap drastically improves the airflow and heat distribution. It is highly recommended as one of the best Focus V Carta accessories to get. The bubble carb redirects airflow to shift trapped wax for max consumption. Heat is also efficiently trapped with the bubble cap, allowing for total consumption.
The Focus V Carta branded bubble cap retails for $20 at CCV linked here. There are a bunch of independent glassblowers who make these types of bubble caps if you are looking for a certain design or color. Some popular artists are Eternal quartz, Greek Glass, and Padd glass.
2nd Focus V Carta Accessories: Upgraded Bucket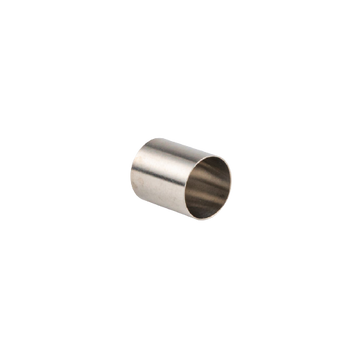 Depending on how you like to use your Focus V Carta different kinds of buckets can make a big difference. There are a handful of options out there including quartz, titanium, and SiC inserts. For a true upgrade, we recommend the 11mm FadeSpace SiC buckets for their boost in efficiency, taste, and ease to clean. They retail for around $100 but have become super hard to find and are usually out of stock everywhere online. Of the standard two (quartz and titanium) we like the titanium buckets as they can withstand a much higher tempenture and are easy to clean.
Both the quartz and titanium buckets are cheap if you want to have some extras around, both being $17 for a 2-pack. Having extras around guarantees a clean bucket for a session which everyone agrees makes the flavors stand out much more.
3rd Focus V Carta Accessories: Batteries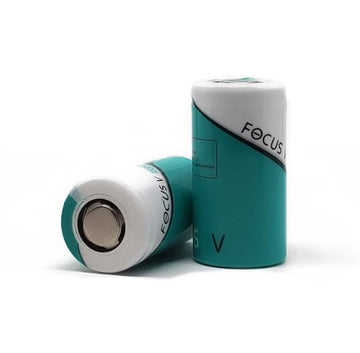 The Focus V Carta uses 18350 flat-top batteries. Of course, the Carta comes with two batteries out of the box but getting extra batteries and an external charger can help for those long sessions. Not only does having more batteries let you swap them out for dead ones mid-session so you don't need to wait for them to recharge but getting an external charger can help make the batteries last longer and charge faster. Rather than charge through the cord which can take a while, you use a desktop charger that charges them much faster. The Focus V Carta branded batteries retail for $25 at CCV linked here but you can also get third-party ones.
Popular third-party ones are KeepPower and Vapecell which retail for around $19 either. And then getting a charging station for all your new batteries can be $28 for a four-slot one like this one.
4th Focus V Carta Accessories: Everlast Atomizer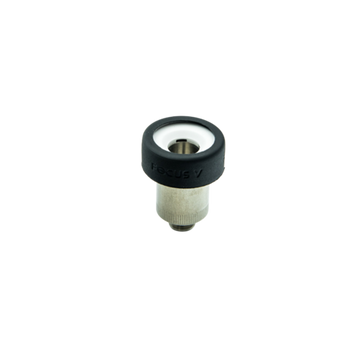 Depending on how new or where you got your Focus V Carta from you might already have an Everlast Atomizer. If you don't then it can be a good upgrade from the original atomizer. Especially if your current atomizer is on the way out and you already are looking to replace it. The Everlast atomizers are made by Focus V so they are built exactly to fit and work perfectly. They retail for $60 on CCV linked here. It has a new design to it making heating up much smoother and keeping the temperature stable much longer.
5th Focus V Carta Accessories: The Carta App
While this might not be a physical Focus V Carta accessory it is something every Carta owner should have downloaded. It uses Bluetooth to pair to your device and allows you to do all sorts of helpful things and have access to cool information. It is called the CARTA browser on the app store. You can use the app to remotely set the exact tempenture you want to use to smoke. The app also shows you useful information like current tempenture and a dab counter to see how many dabs you have taken so far. Overall some users love it while some users find it hard to use. Regardless give it a try and see if it helps you.
Conclusion:
Overall the Focus V Carta is a great device with or without accessories. But for those who want to get the full effects of their concentrates and the best possible smoke and taste then getting a couple of upgrades and accessories can help. One thing we did not mention on this list is getting an upgraded glass top. Usually made by very talented artists they can become pretty pricy for a quality piece. Check some out at the CCV store page linked here with a bunch of cool glass toppers. If you are still on the fence about buying a Focus V Carta check out this blog post comparing a lot of popular e-rigs linked here.