Does Trulieve sell edibles? The short answer yes. At the time of writing, Trulieve does sell edibles in all kinds of forms. Trulieve sells gummy edibles, chocolate bar edibles, and chocolate chip cookie edibles, and brownies edibles. Edibles are one of the most recent addition to Florida dispensaries as they were just recently legalized and dispensaries became allowed to sell them. Trulieve being the go-to dispensary for edibles since they have the widest selection to choose from. Many people do not like smoking flowers or concentrate as the hot smoke hurts their throat or lungs. Edibles are a good way to consume THC and CBD medication without having to smoke them. Not to mention they are convenient, have no smell, and do not require extra devices or tools to consume. Edibles are subject to the FCOD for approval and regulation.
The FDOH has set a maximum milligram amount for individual serving sizes to 10mg and the maximum per container to be 200 mg. Click here to read the Trulieve releases statement concerning edibles. Also check on the Trulieve product page concerning calories, ingredients, and other dietary information. To see Florida dispensary deals and discounts click here.
Does Trulieve Sell Edibles And How To Get Them:
Of course, you can go on the Trulieve website to see which kind they have in stock and the prices. To order them you need to have an edibles route on your medical marijuana registry prescription. To get this you need to contact your doctor and have them add it to your profile. Orders placed without an edible route will not be filled. Most doctors are very understanding about adding it and usually can be done with a quick phone call. Speak to your doctor if edibles are right for you and can be added to your perspiration. While the edibles are in stock most of the time, flavors do tend to sell out so you can get them but not the flavor you want.
Trulieve Edible Chocolate Bars: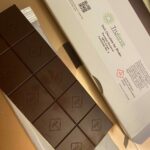 There are two kinds of edible chocolate bars at Trulieve. The TruChocolate ones are made by Trulieve and the Binske brand bars. Both are almost the exact same in terms of dose and flavors. They both come in milk chocolate and dark chocolate bars. The TruChocolate also has a maple pecan flavor. Each bar is 100mg and each square on the bar is 10mg. Again the max allowed by the FDOH. We have never tried dark chocolate but the TruChocolate milk chocolate bar was very good taste-wise and the effects were minimal but that is different for everyone and their tolerance. The TruChocolate is priced at $20 per bar and the Binske ones are priced at $25 per bar.
Trulieve Edible Gummies: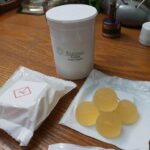 The gummies or gels are the most common of the edibles and have the widest selection to choose from. There are different flavors and strains to pick from. Again there are the Trulieve brand ones called TruGels and the Binske ones called chews. The TruGels are much more common and have a wide selection of flavors and strains. At the time of writing the Binske Chews, flavors are lemon-lime and mango. The Trugels flavors are apple cinnamon, cranberry, sugar plum, green apple, blue raspberry, guava passion fruit, pineapple watermelon, and Florida orange. Each gummy is 10mg and the package comes with 10 10mg gummies totaling 100mg per container. Both the TruGels and Binske chews are $25 per container.
Trulieve Edible Cookies: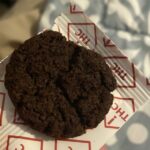 The cookies have mixed reviews among the community. The majority of cookies are made by Love's Oven. Currently, there are only three kinds of edible cookies sold by Trulieve. There is a chocolate chip, a dark chocolate chip, and a ginger snap. It seems to depend on the batch because some have reported them tasting powdery, hard, and dry. Regardless the ginger snap is the community favorite in terms of flavor. Each cookie has 10mg and each container has 10 cookies in it totaling 100mg. They all go for the same price of $25 per container. We had the dark chocolate chip cookies and have to say they were amazing. Super good flavoring with none to very little cannabis taste. We did have to eat a couple to feel the full effects like other edibles due to tolerance but that is different for everyone.
Trulieve Edible Brownies: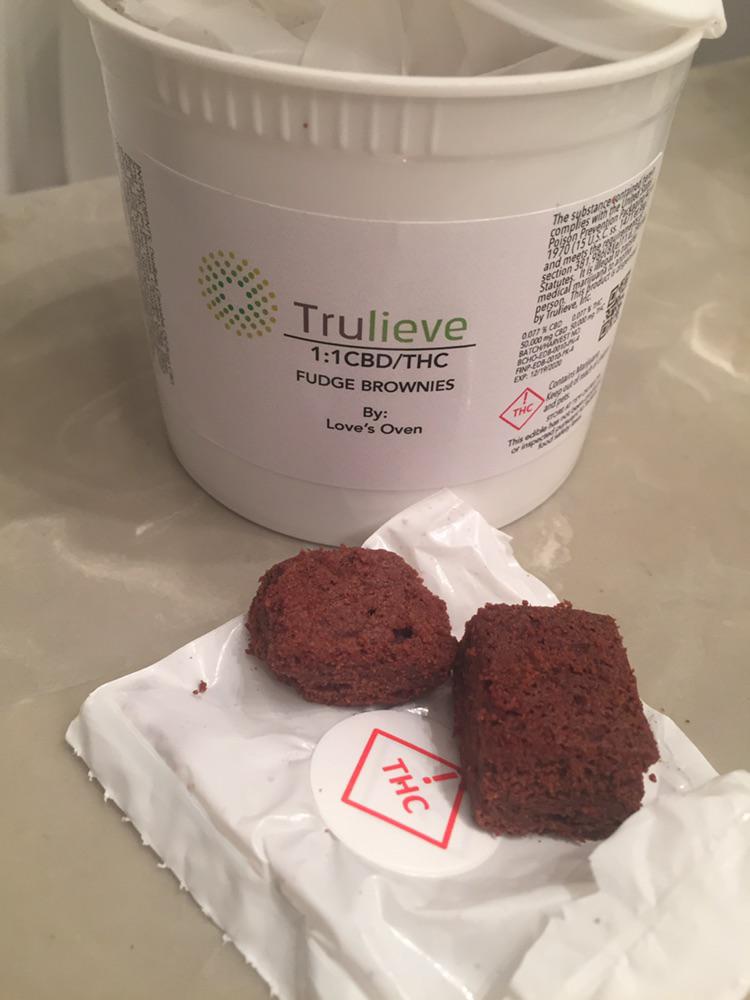 Lastly brownies, a classic when talking about edibles but sadly the selection does not live up to the legend of "pot brownies". Like the cookies, they are made by Love's Oven and come in two kinds. The normal fudge brownies and 1:1 THC and CBD brownie. Each brownie is 10mg and comes in a container of 10 totaling 100mg. Both are priced at $25 per container.